Watch and record live TV, subscription-free. Just one Tablo delivers antenna TV and free streaming channels to every screen in your home.
The Tablo Total System comes with a TV antenna. If you already have one that works for you, choose the "No Antenna" option to save even more.
Regular price
$109.95 USD
$109.95 USD
Regular price
$129.95 USD
Sale price
Unit price
per
Sale
Sold out
View full details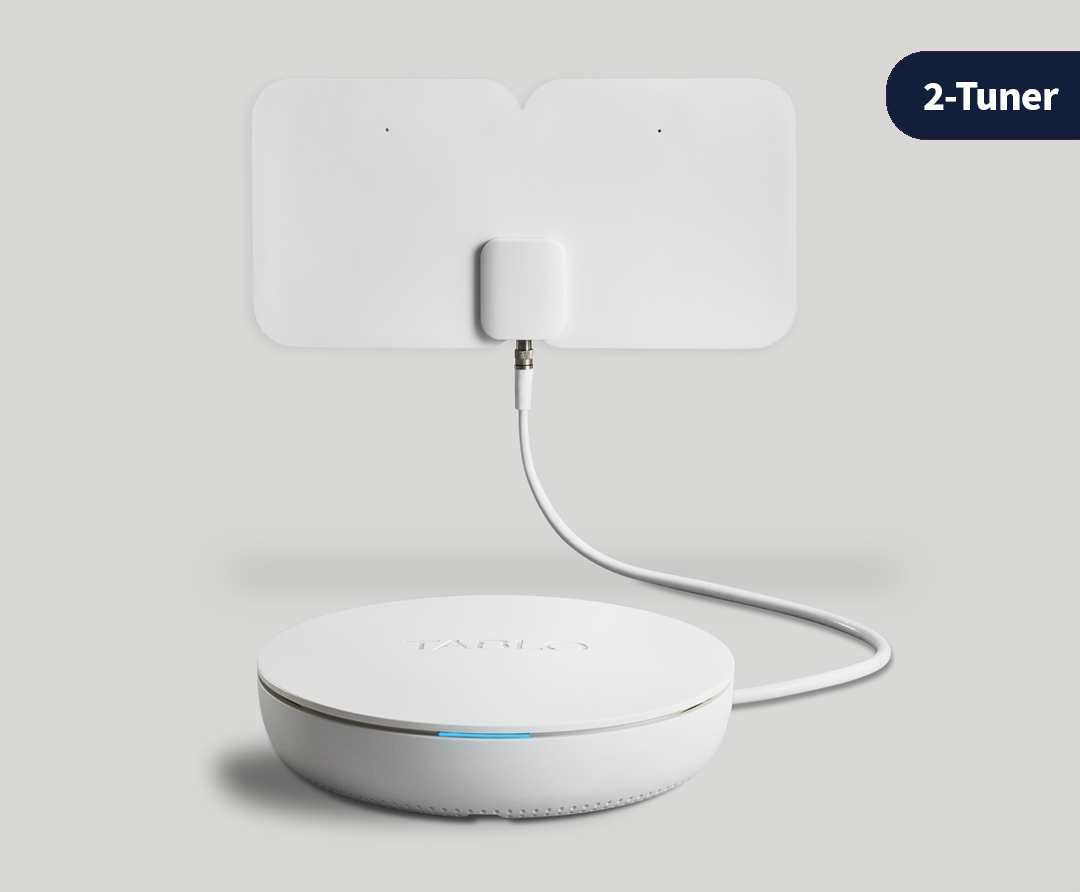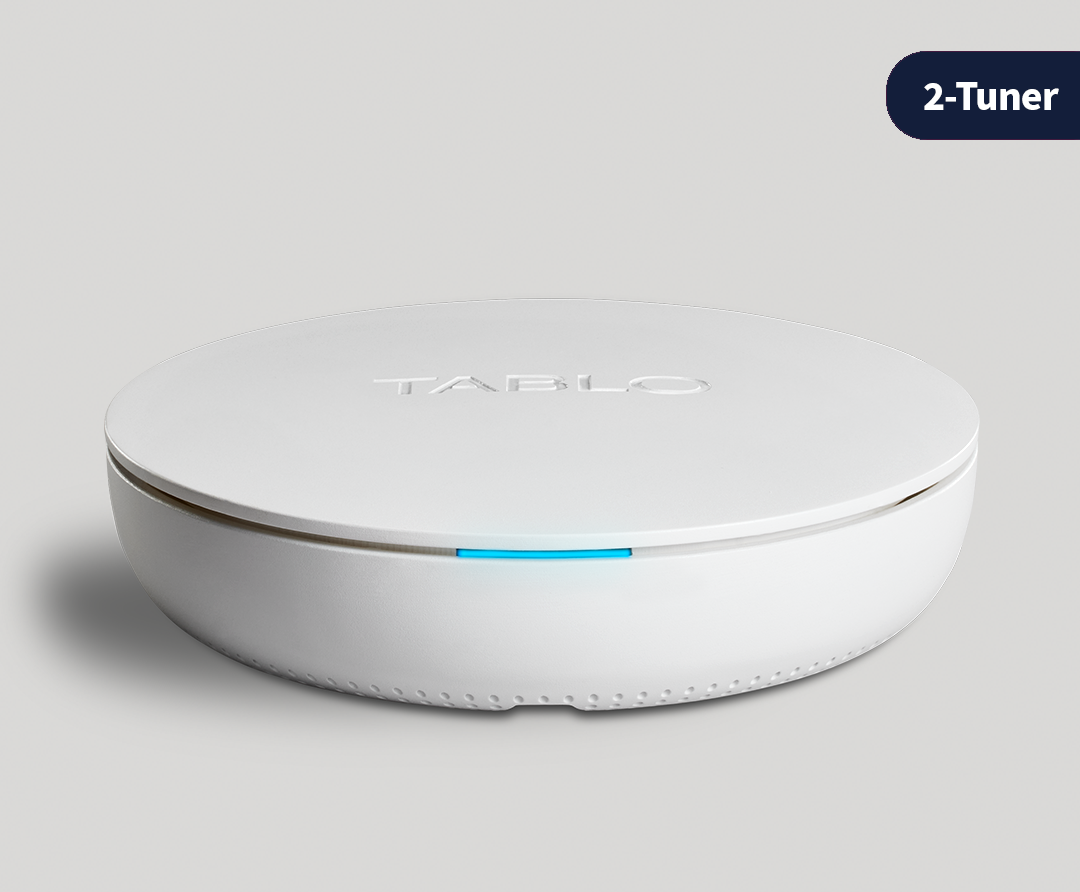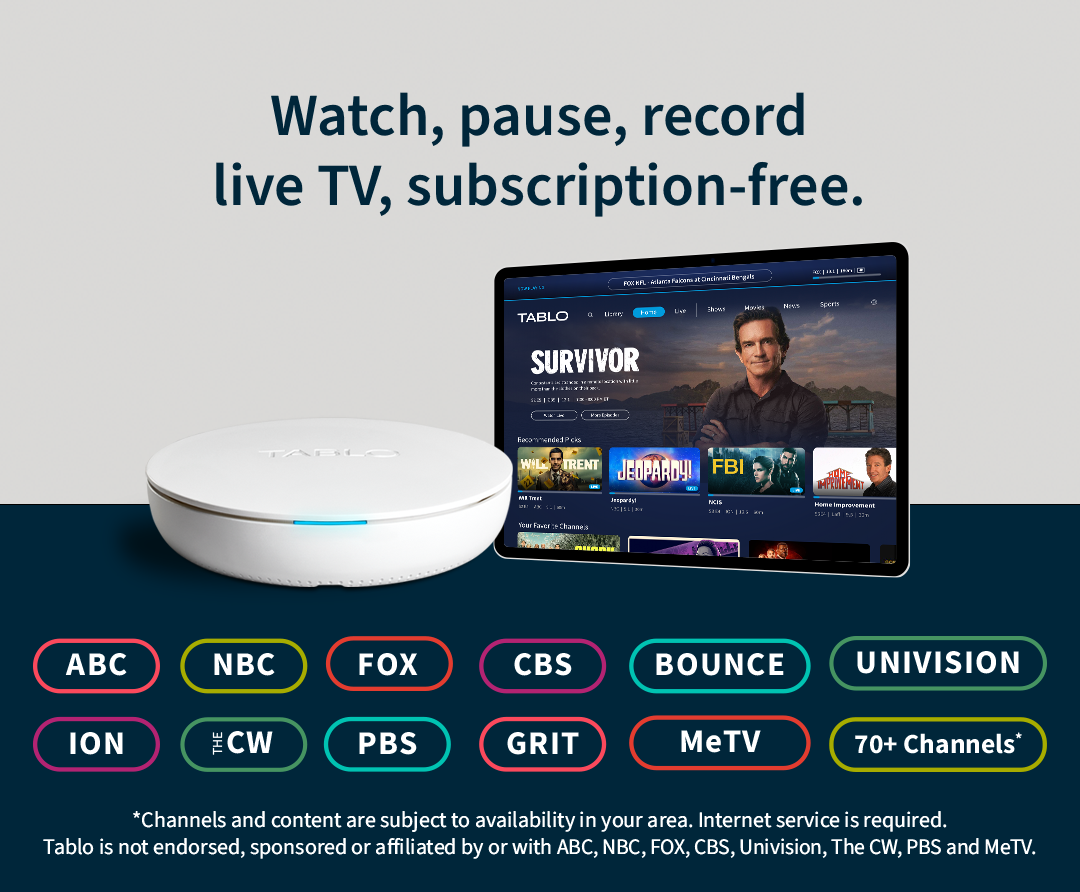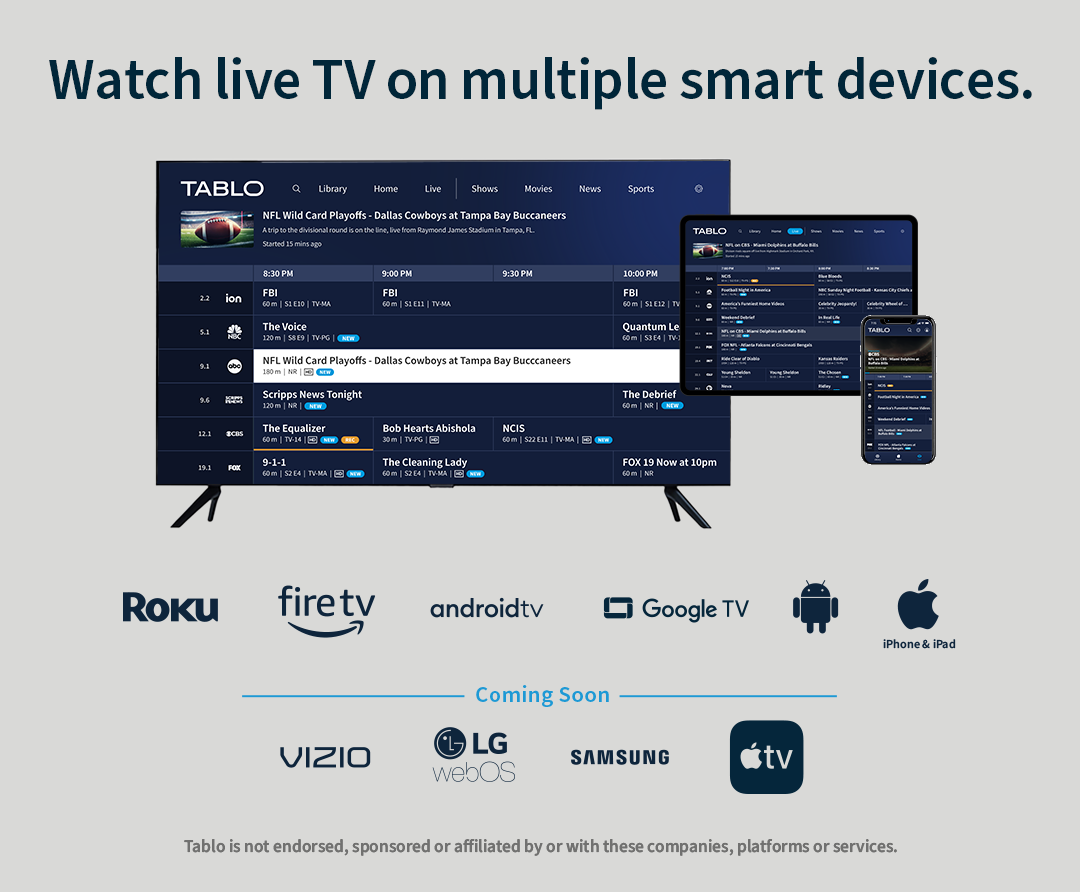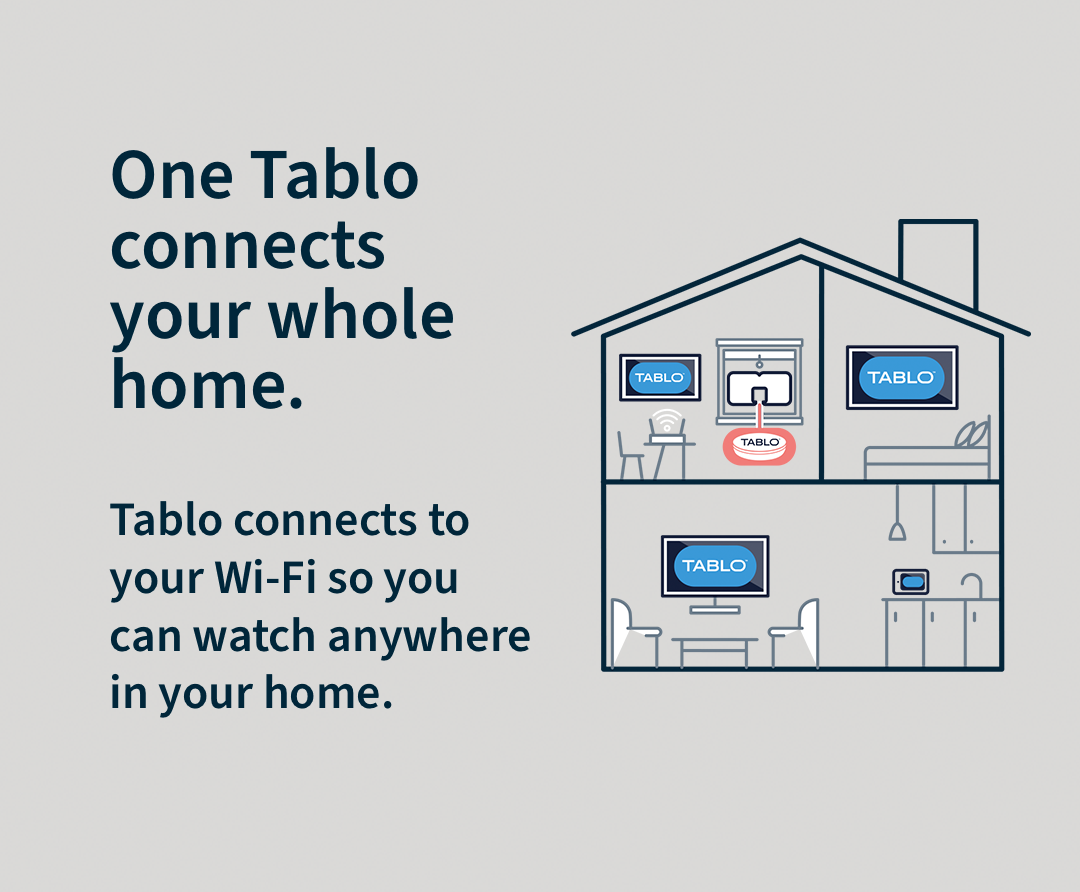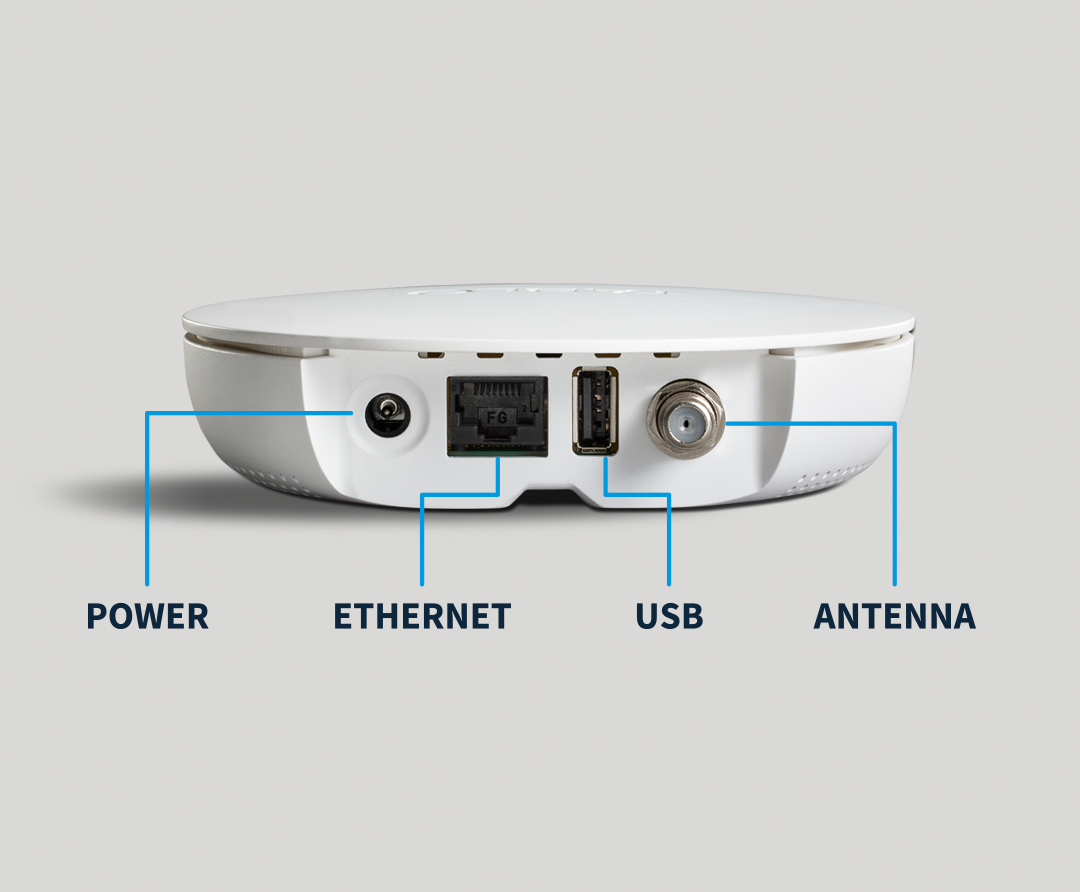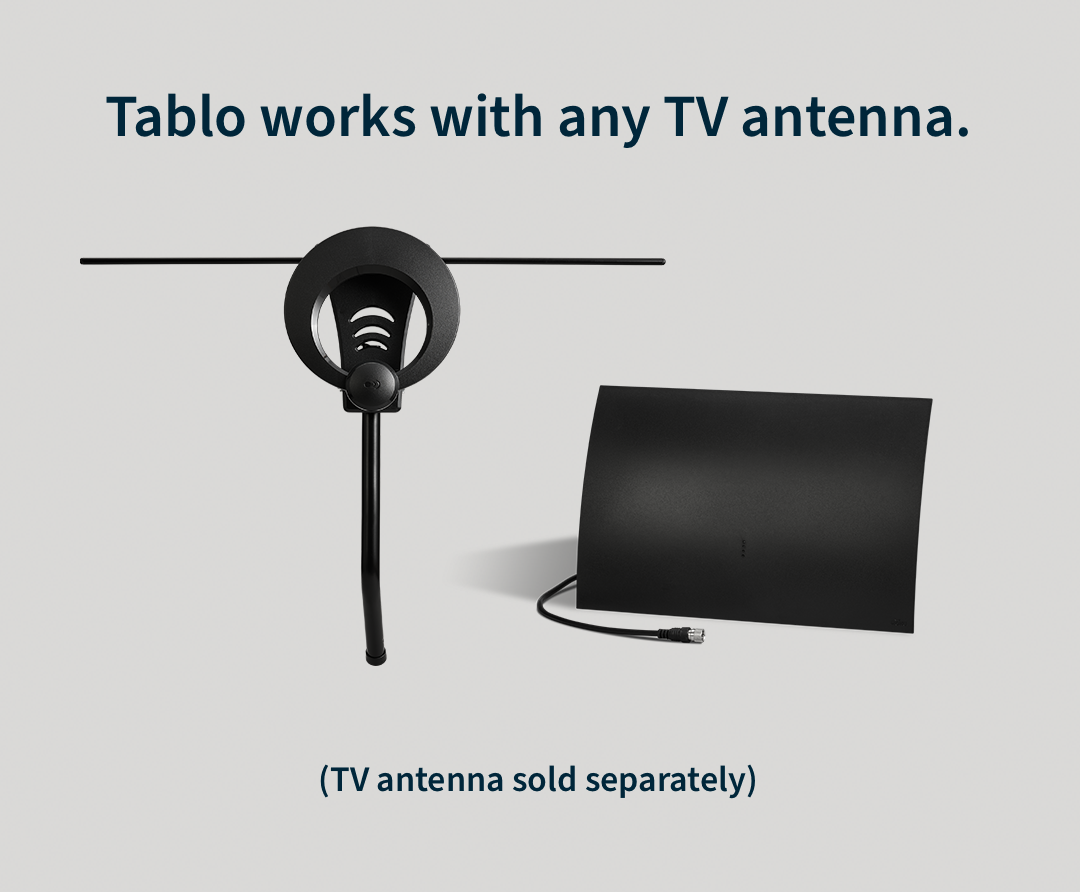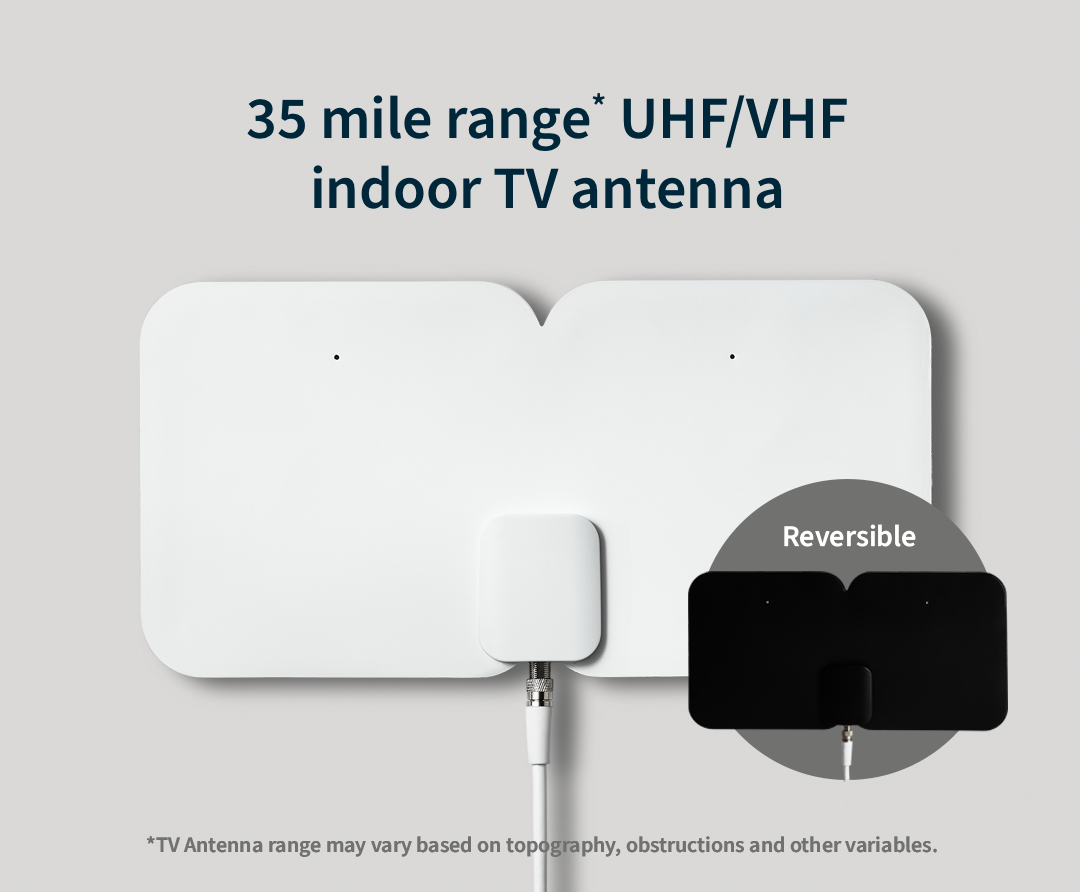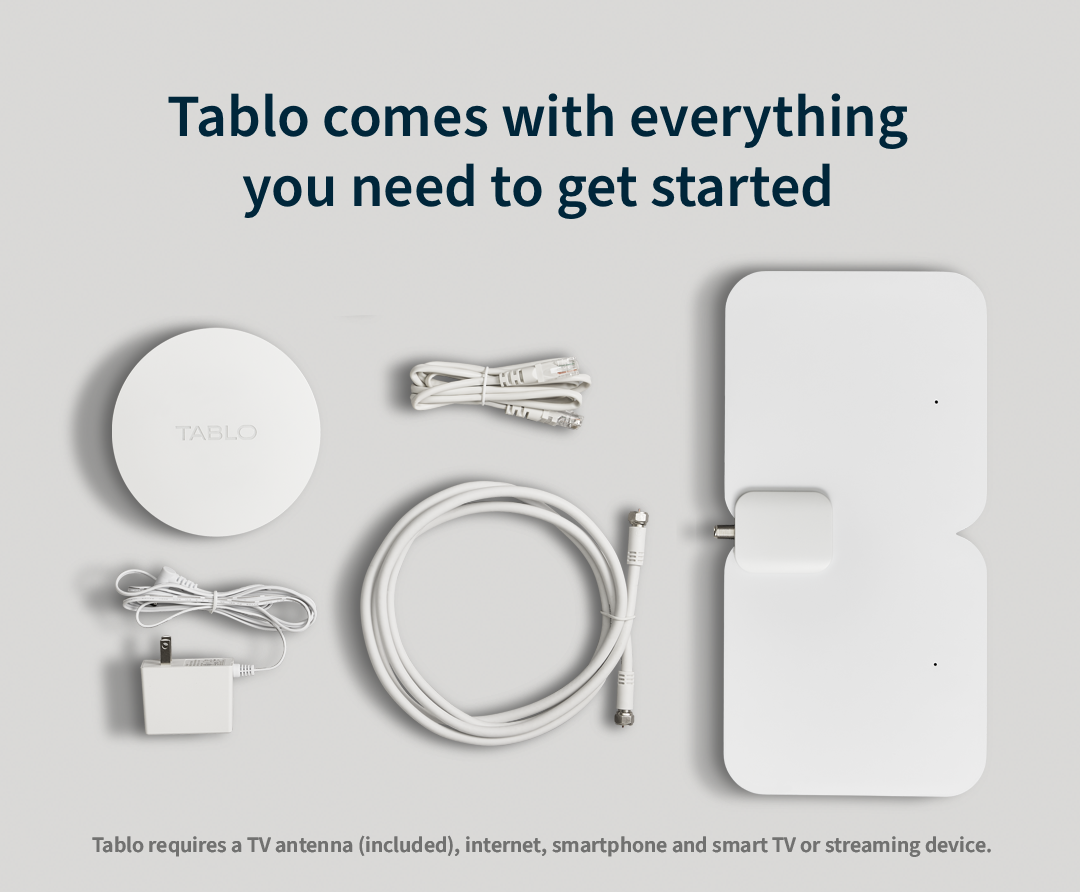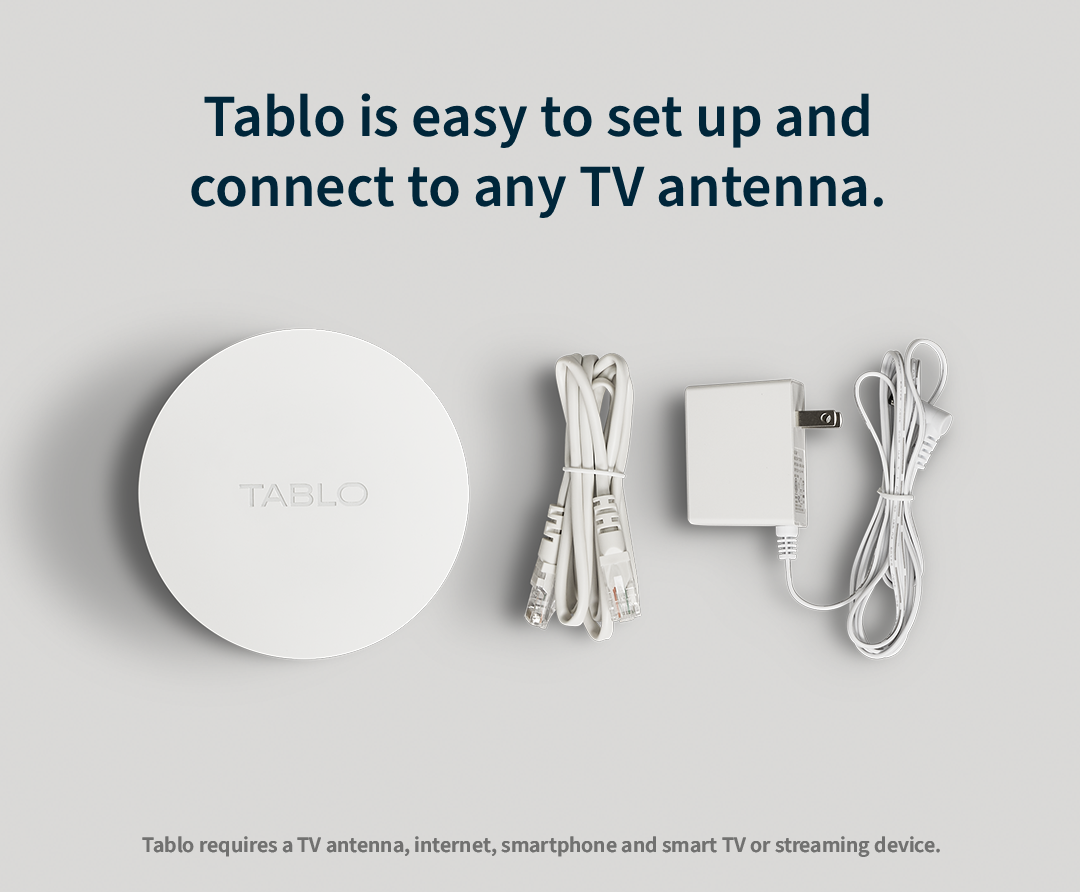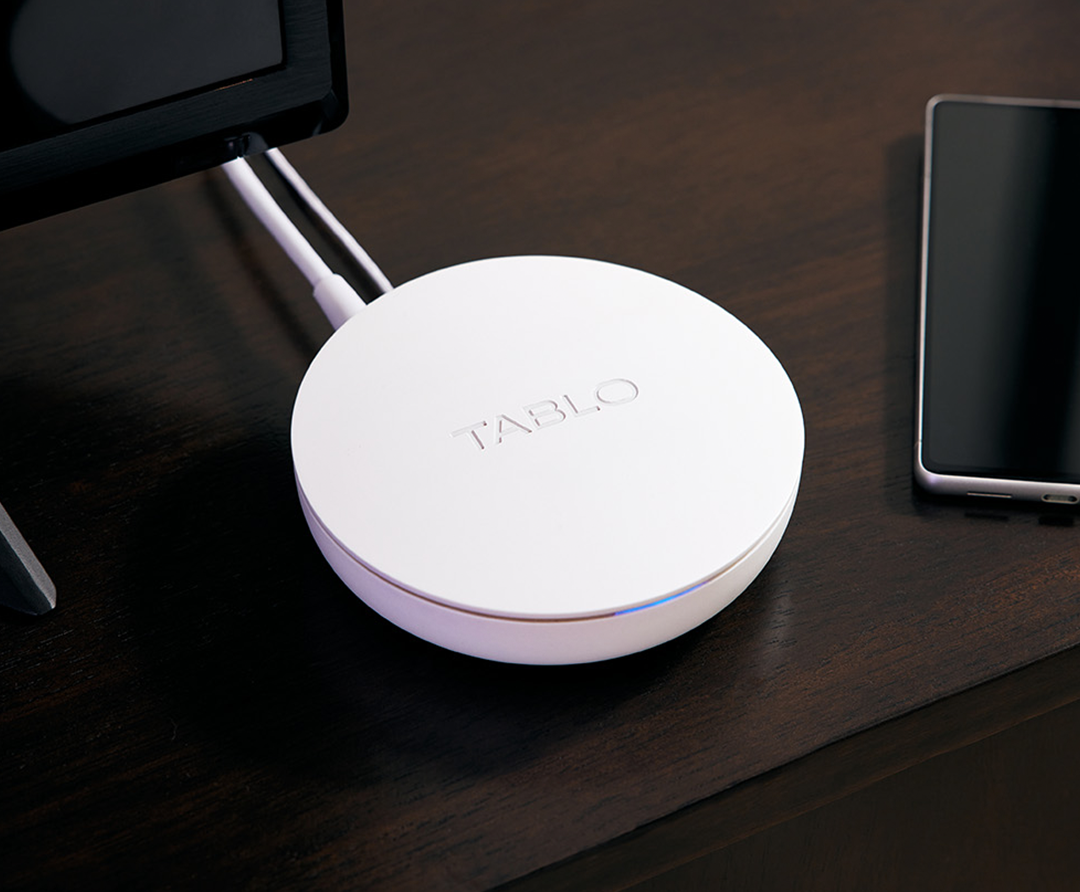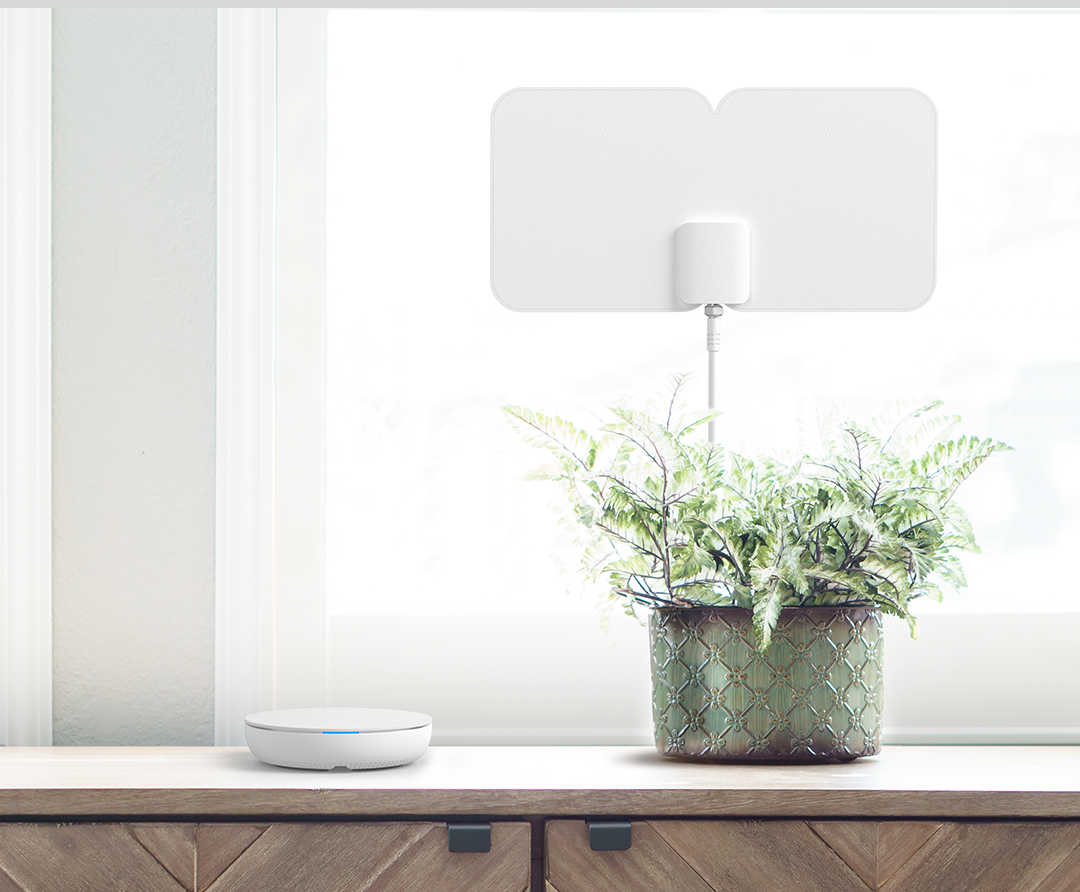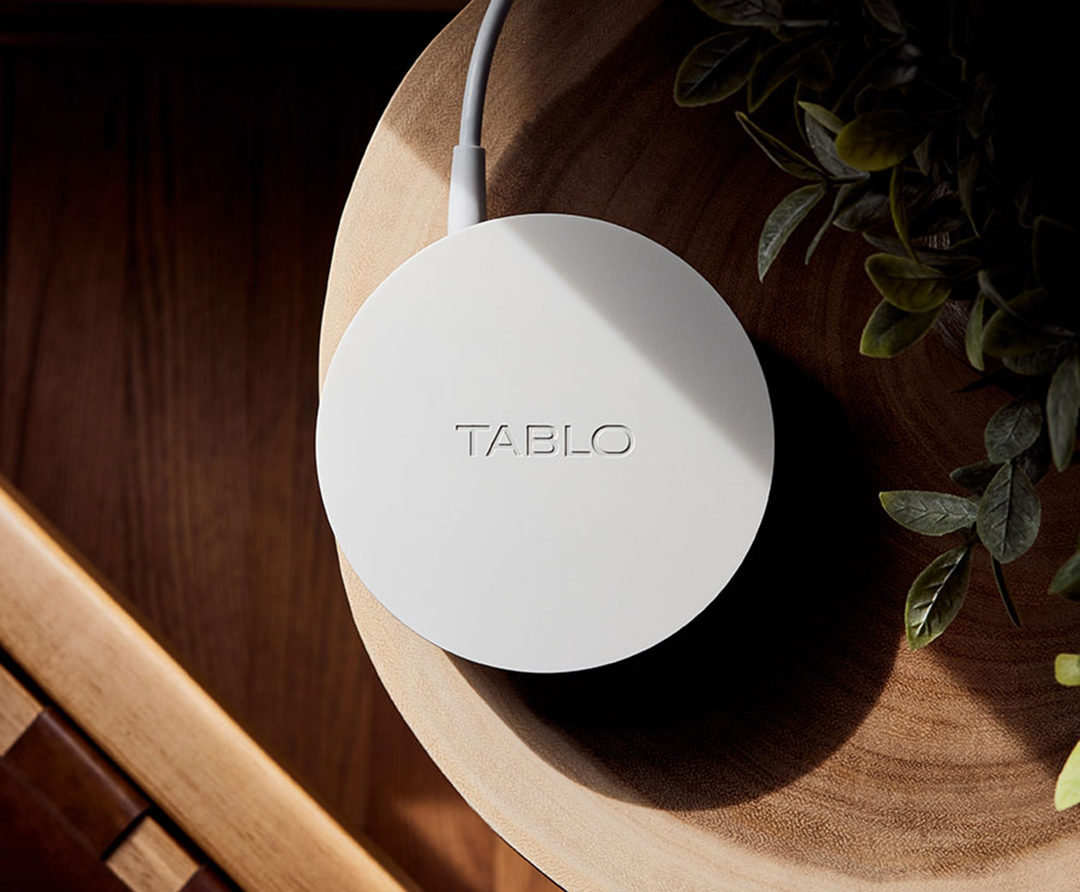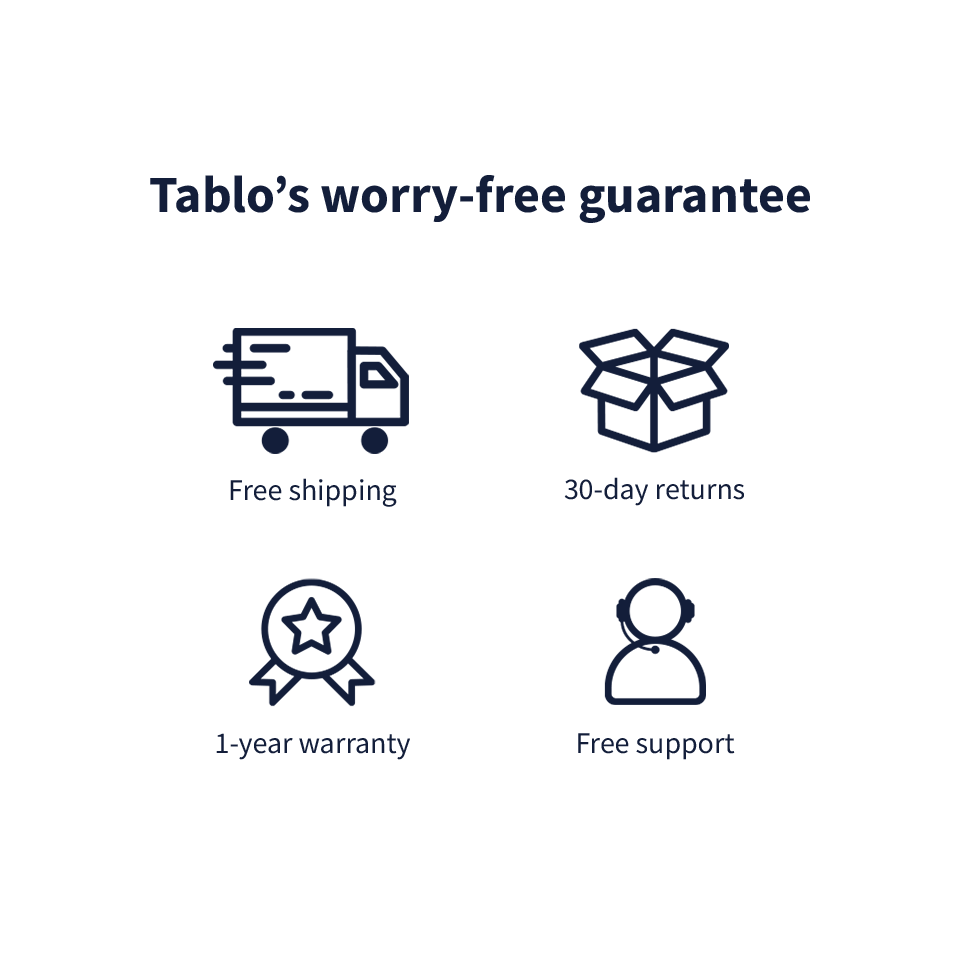 Whole-Home Access

One Tablo lets you watch television anywhere in your home, on any smart device, wirelessly.

No Subscriptions

Enjoy ABC, CBS, FOX and NBC, as well as free streaming channels with no subscriptions or fees.

Record & Replay

Never miss a thing. Watch, pause, replay and record live TV while watching another channel.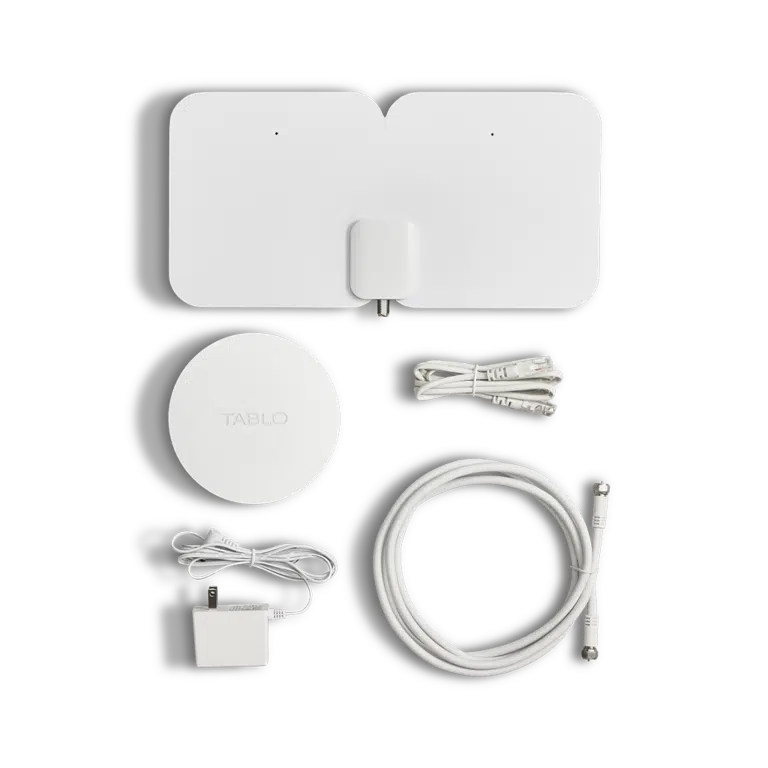 Tablo comes with everything you need to get started.
Tablo (4th gen) with onboard storage
Power supply and Ethernet cable
35-mile TV antenna and coaxial cable (Tablo Total System only)
Free Tablo app for every smart device
Setting up Tablo is simple.

Product Details.
What's Included:

Tablo device
Power supply
4′ Ethernet cable
Quick start guide
Tablo apps for every device
Indoor TV antenna & 6′ high performance RG6 coaxial cable (when you choose the Tablo Total System "with Antenna")
Ports:

Power
Ethernet 10/100
USB 2.0
Coax
Dimensions and Weight:

Height – 35 mm (1.37")
Width – 127 mm (5.00")
Depth – 127 mm (5.00")
Weight – 170 g (5.9 oz)​
Audio Format:

Pass-through of 5.1 Surround Sound when available
Concurrent Streams:

Watch and record up to two live channels simultaneously
Watch on up to six devices at once
Built-in Antenna Amplifier:

11dB gain per tuner
75 Ohm impedance (input and output)
Can be turned off if using external amplifier
Tablo Total System Included Antenna:

Reception range – up to 35 miles
Frequency range – 87.5-230MHz, 470-862MHz
Receiving range – VHF/UHF
Gain – 4-6dB
Impedance – 75Ω
Recording Capacity:

50+ hours of onboard HD storage
Support for USB hard drives up to 8TB (~1000 hours of HD storage)
Networking:

100 Mbps Ethernet
802.11ac dual band WiFi with MIMO
Video Format:

MPEG2 (recordings saved to onboard storage will be transcoded to MPEG4 to maximize capacity)
Frequently asked questions
Do I need internet to use Tablo?

Yes. You do need internet access to use Tablo. Like many modern gadgets, Tablo is a network-connected device, designed to have consistent high-speed internet access and will not function without it.
What devices can I use to set up my Tablo?

To set up your Tablo you'll need an iOS or Android smartphone or tablet.
What smart devices are compatible with Tablo for viewing and managing live TV and recordings?

Tablo is compatible with streaming devices (sticks and boxes) and smart TVs from Roku, Amazon Fire TV, Android TV/Google TV, Apple TV*, Samsung*, LG* and Vizio*, as well as smartphones and tablets running iOS and Android.

*COMING SOON
Does Tablo require a subscription?

No. There are no subscriptions, contracts, or hidden fees with Tablo whatsoever. Programming from your TV antenna as well as the 40+ included internet-based streaming channels are absolutely free and there is no cost to enjoy any Tablo apps, features, or guide data.
What hard drives are compatible with Tablo if I want to increase recording storage capacity?

Tablo devices come with up to 50 hours of onboard HD storage. However, you can choose to connect a portable USB hard drive (USB 2.0 or 3.0) between 1TB and 8TB in size for up to 1000 hours of additional storage capacity. See the Tablo Support Portal for details and recommendations.
Can I watch or record cable/satellite or streaming services with Tablo?

No. Tablo is designed to stream and record broadcast TV from antennas as well as included free TV streaming channels. It does not support viewing or recording from streaming services like Netflix for Sling, or cable or satellite channels like ESPN or HGTV.
Does the 4th generation Tablo support ATSC 3.0 (aka NextGenTV)?

No. The tuners in the 4th generation Tablo support the ATSC 1.0 broadcast standard used by all major commercial broadcasts today and the Tablo device takes full advantage of it like never before. While ATSC 3.0 broadcasts are available in some markets, ATSC 1.0 broadcasts will continue through at least June 2027.
Is a 4-tuner 4th Generation Tablo device in the works?

Yes! While we don't have a specific ETA for this product to share at this time, we know that some TV lovers need the flexibility of a 4-tuner Tablo device.
What are Tablo's shipping and return policies?

Shipping is always free to residents of the United States. And while we hope you love your Tablo, if you're unhappy for any reason we offer a 30-day money-back guarantee. Customers must pay for return shipping. See our store policies page for details.
New 4th gen Tablo TV
I really like the new look and the streaming channels. The guide is more comprehensive. I'm still getting used to navigating around inside the Roku app. I miss the javascript like popup, but even without it, it"s really great. I'd give it a solid 5 stars.
Love my Tablo!
I bought my Tablo last month and thoroughly love it! I probably didn't need the 1TB because I delete my programs after watching them, but it is a great device. I'm a little bummed that the newer and much cheaper version has come out right after buying mine, but I can't complain.
Tablo 4th Generation, Perfect.
Just purchased the TabloTV 4th generation DVR, and I must say, I love it..!! No monthly fees, and it works perfectly with my FireTV Stick 4K Max..!! For the best reception please pay attention to what Im going to tell you. I bought a Must Have Flat Antenna. It was suppose to be the best. Not quite the best. I was unable to receive OTA channels like Fox & CW without losing reception. Yes, others blamed their Tablo 4th Gen tuner, but they were wrong..!! It was their antennas fault. Yep, here is my proof. After I became so frustrated with my new flat antenna and lousy reception, I researched different antennas. I was impressed with reviews about the Channel Master FLATenna+ (plus) indoor Antenna so I ordered one online. It had a signal amplifier that impressed me. I installed my new CH antenna with the included amplifier along with Tablos built in amplifier turned off. Channel reception was fair, but not perfect. I then tried a different method. I ran the enclosed Channel Master coax cable direct from the FLATenna+ to the Tablo 4th Generation DVR WITHOUT the CH enclosed antenna amp, splitter and filter. I then turned on the built-in Tablo Antenna Amplification (on) & rescanned my channels. All my local channels, the ones I watch, including Fox & CW received 100% perfect HD reception. I am 100% happy with my Tablo 4th Generation DVR
Note: I tried several locations for my Flat Antenna.
Different locations means different outcomes.
Rescan after Every Change.!!
Go online to establish where your broadcast towers are located. Direct your Indoor Flat Antenna toward the broadcast Towers.
Try both with signal amplification on & off, always Rescan when you make a change..!!
This review does not reflect on the Antenna Tablo sells, I never tried theirs..!!
Good luck