The Tablo QUAD HDMI OTA DVR is one of our first DVR models to connect directly to your television.

Designed for TV lovers with larger families and/or channel lineups who prefer a traditional OTA DVR setup with a dedicated remote, Tablo QUAD HDMI lets you watch or record up to four shows at once.
The Tablo QUAD HDMI OTA DVR features:
4 Over-the-Air ATSC Tuners
Ethernet or WiFi Connection
Direct HDMI connection to your television
Dedicated IR remote
5.1 Surround Sound support
Regular price
$199.99 USD
Regular price
Sale price
$199.99 USD
Unit price
per
Sale
Sold out
What you need to setup?

To set up your Tablo QUAD HDMI OTA DVR you need:

An Over-the-Air HDTV antenna
An internet connection
A USB hard drive - this is required both for watching live TV and recording
A television with an HDMI port (all TVs manufactured after 2005 should include this)
This product's user interface is not the same as new Tablo's (4th Generation) user interface. This product does not support Streaming Channels.
View full details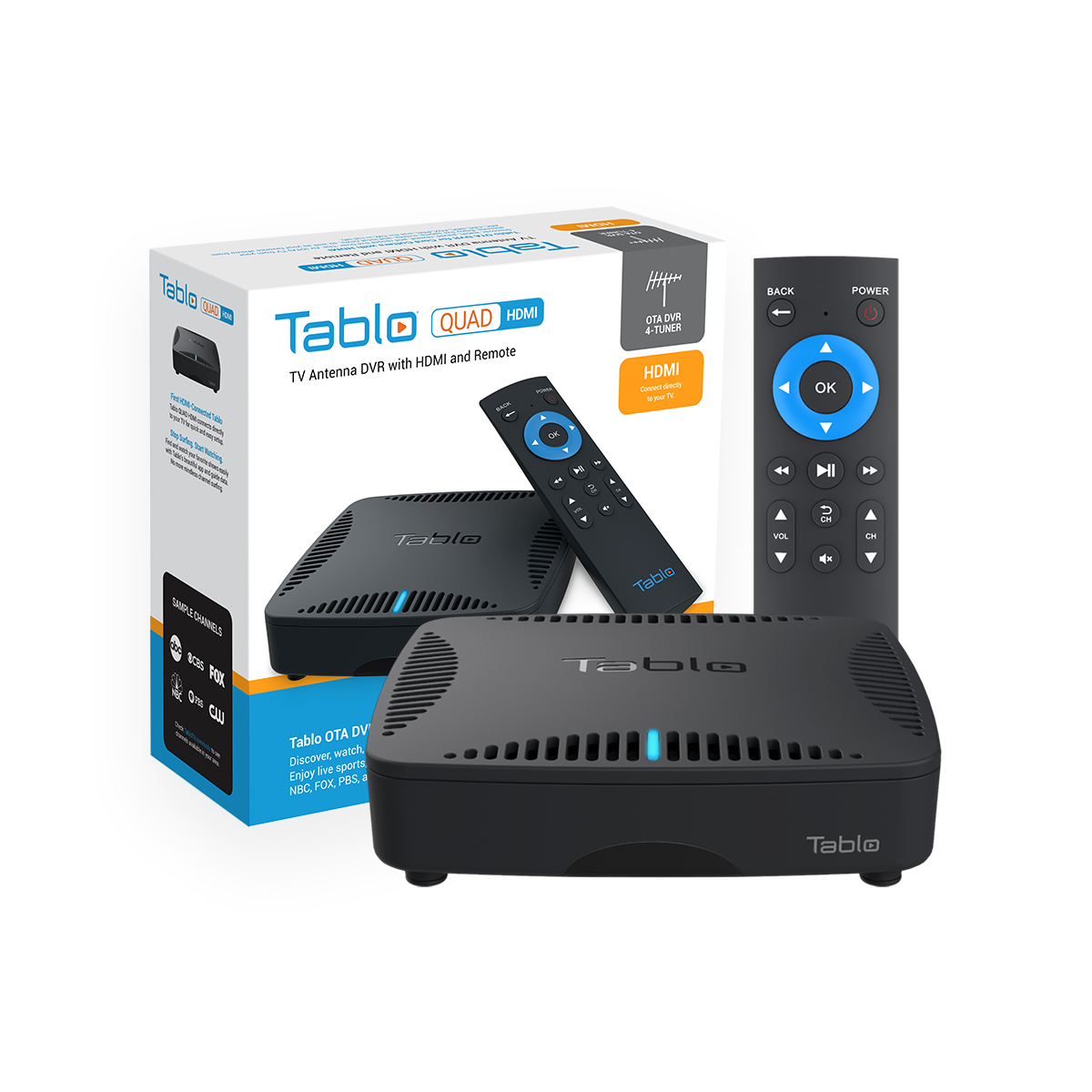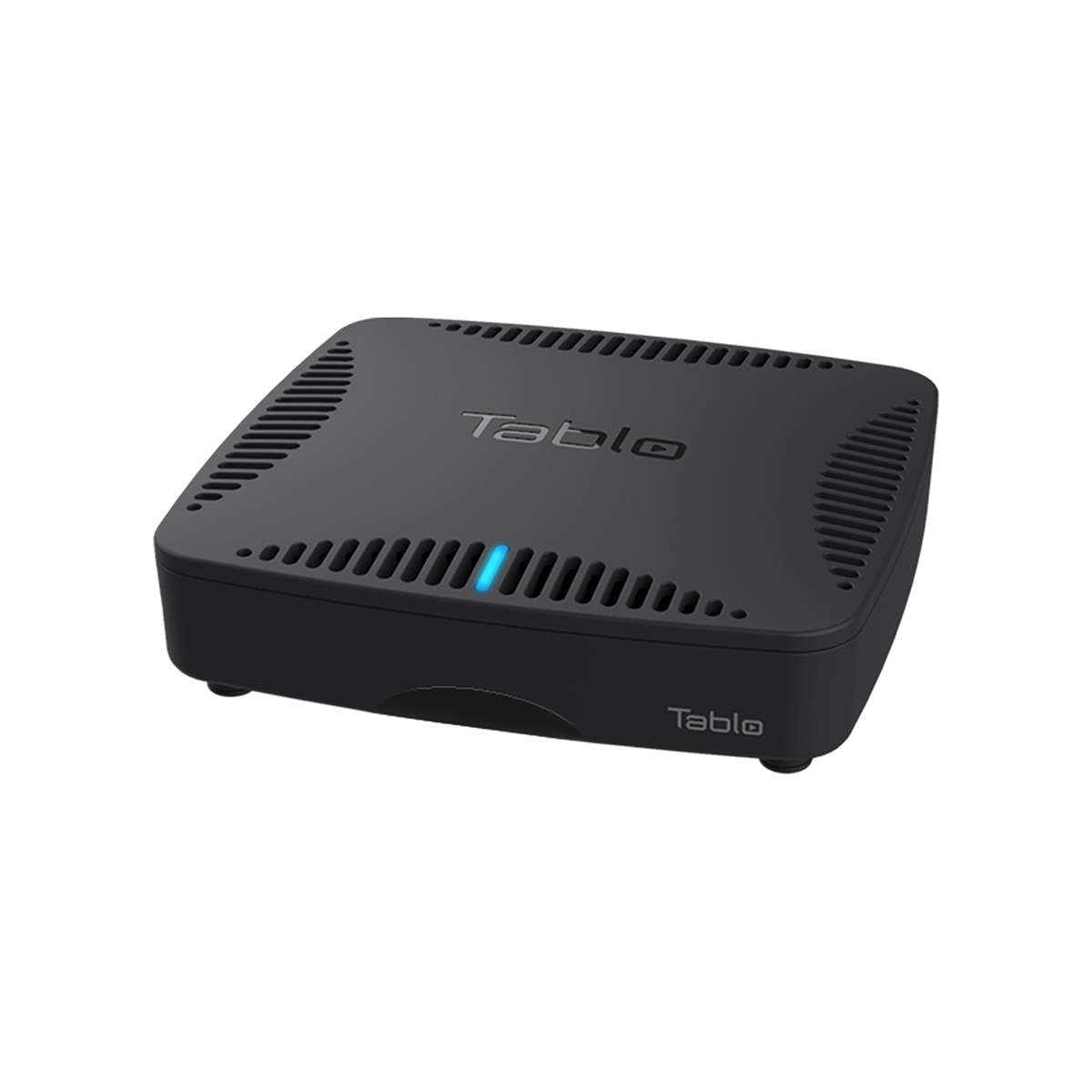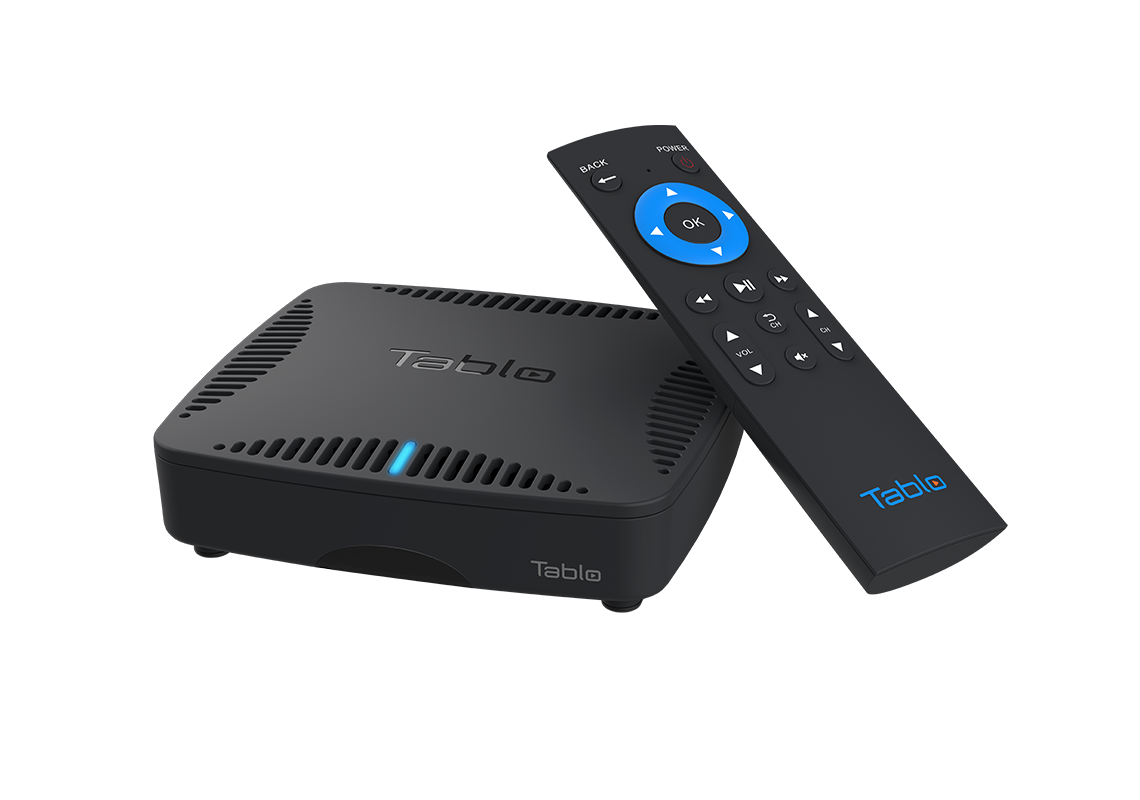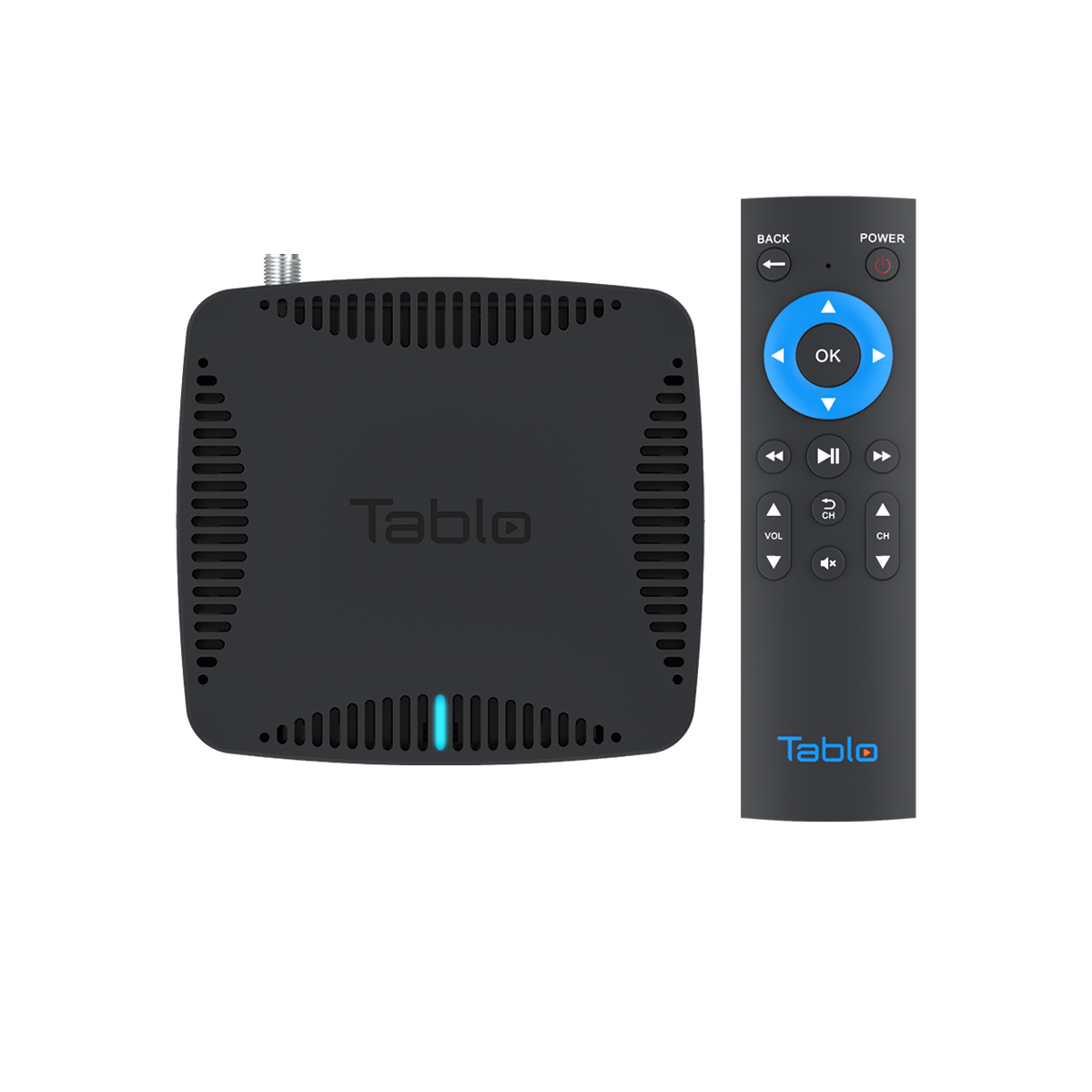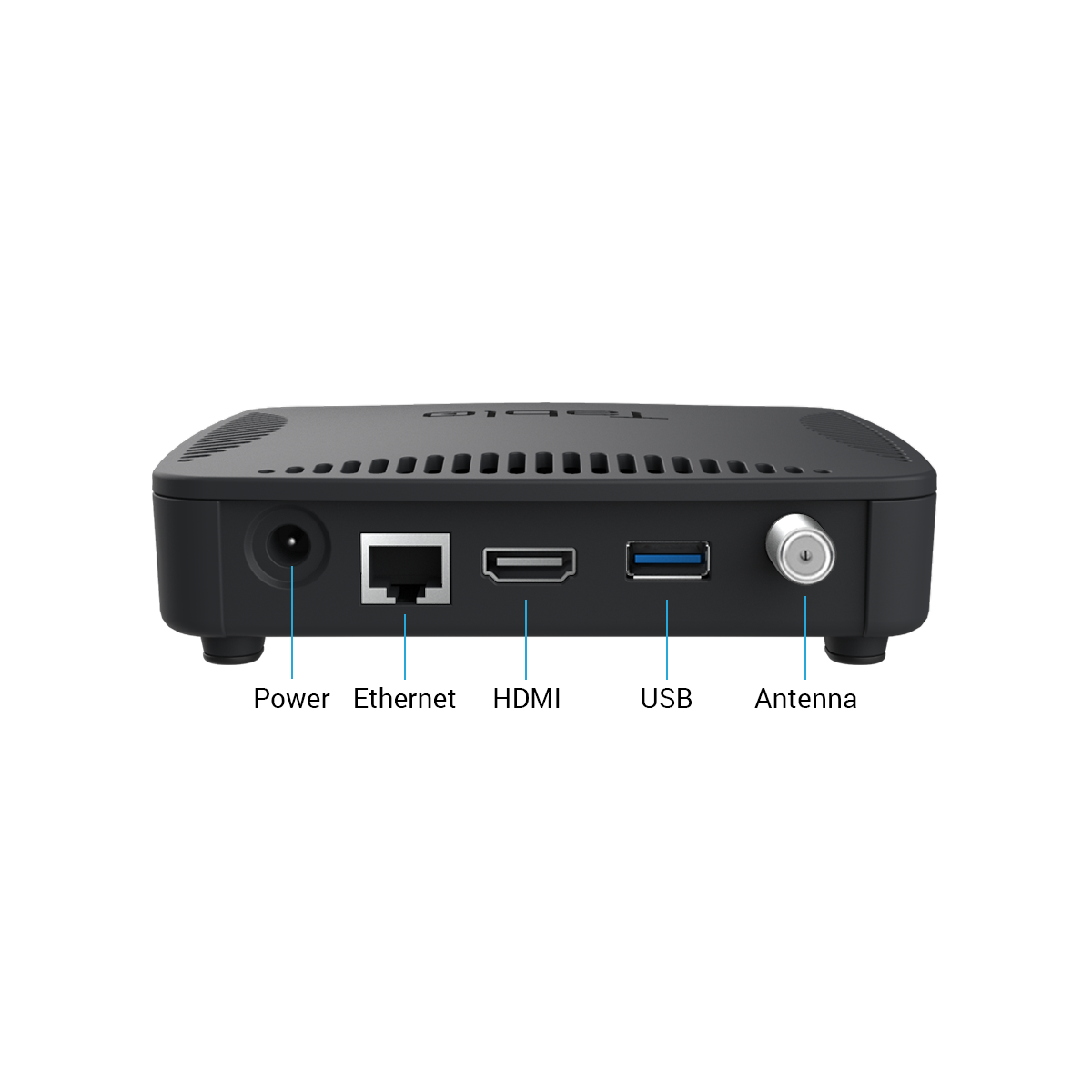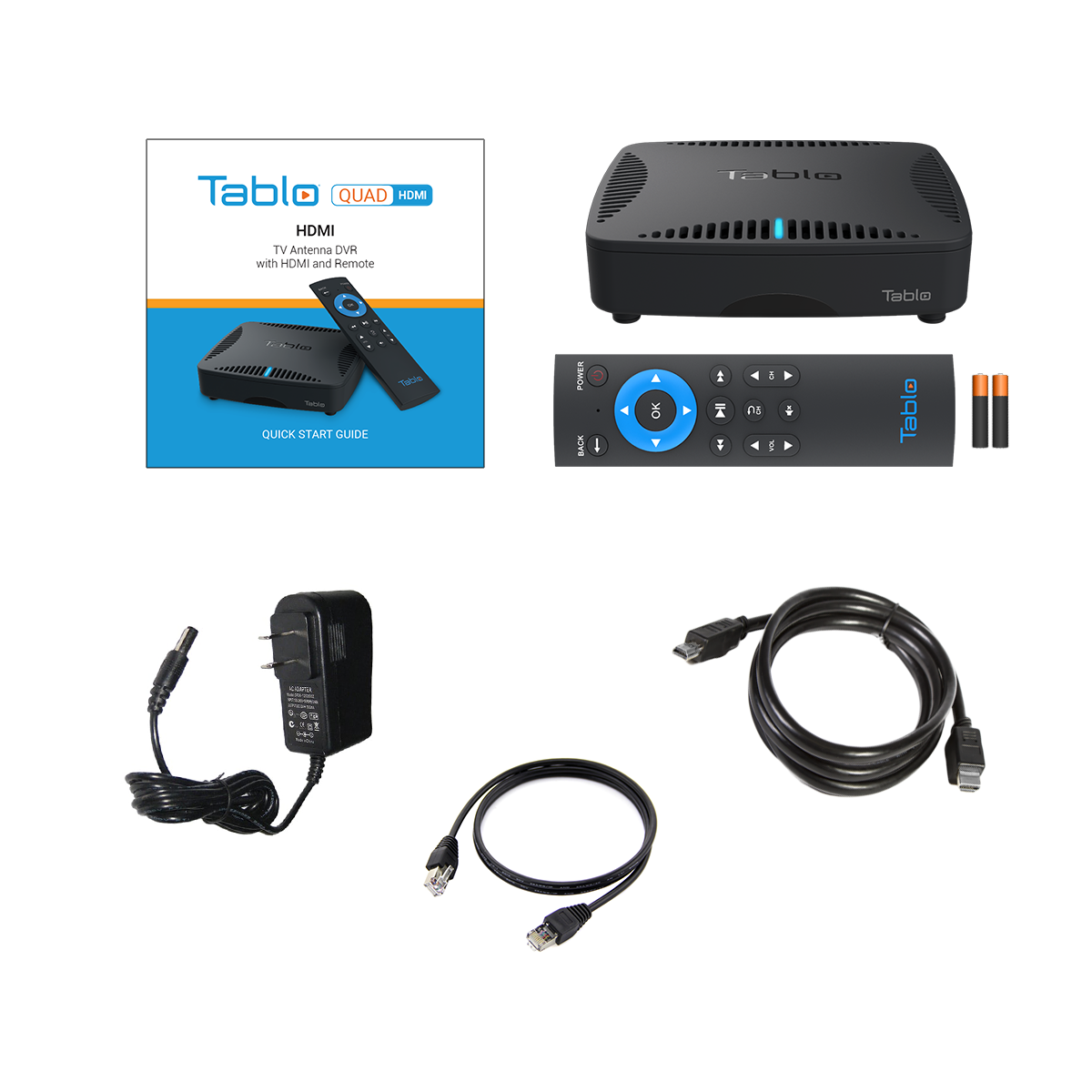 Features
4 Over-the-Air ATSC Tuners

A Tablo QUAD HDMI OTA DVR can stream or record up to four live OTA TV channels at once.

Connects directly to your TV via HDMI

Watch your favorite live and recorded TV shows right on your big screen without the need for a separate streaming device.

Virtually Unlimited Storage

Bring your own storage: Connect a USB hard drive (1TB to 8TB) to your Tablo to record up to 1000 hours of full quality HDTV.

5.1 Surround Sound

Tablo TV-connected DVRs enable passthrough of 5.1 surround sound, when available.
Specifications
What's Included:

Tablo QUAD HDMI OTA DVR
Tablo Remote
AAA Batteries (x2)
Power Supply
5' Ethernet Cable
5' HDMI Cable
Quick Start Guide
Concurrent Streams:

Watch or record up to four shows simultaneously
Watch on your connected TV and up to four additional TVs via select Tablo apps
Storage:

No onboard storage
Support for 1TB to 8TB USB hard drive
Ports:

Power
Ethernet 1000/100/10
USB 3.0
HDMI 2.1
Coax
Processing:

Quad Core
2GB RAM
16GB Flash
Networking:

Gigabit Ethernet
802.11ac dual band WiFi with MIMO
Dimensions (Device):

Height - 37 mm (1.45")
Width - 135 mm (5.3")
Depth - 131 mm (5.15")
Audio Format:

Stereo (PCM) audio or AC3 Passthrough (5.1)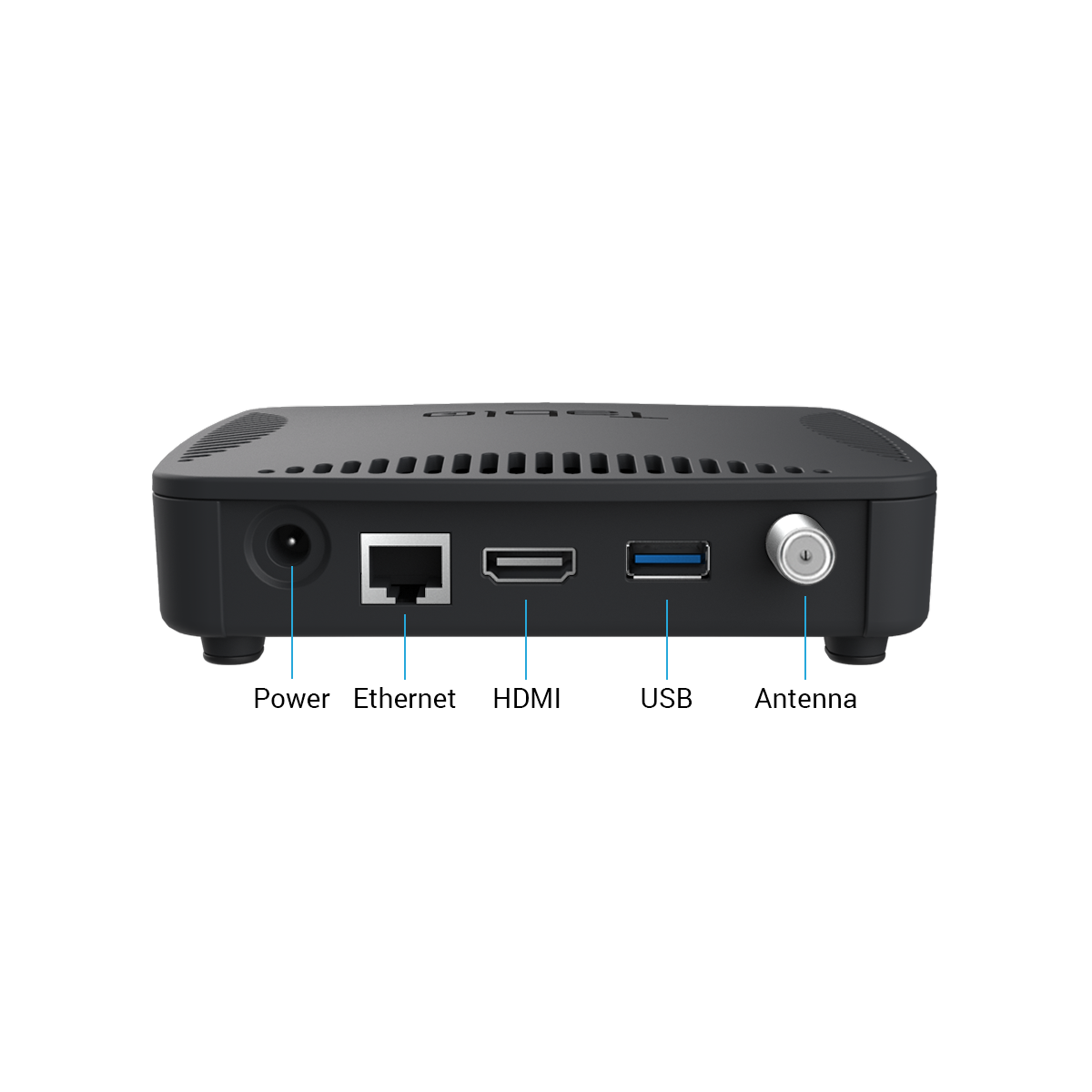 Setup
It's easy to start enjoying free Over-the-Air TV with a Tablo QUAD HDMI OTA DVR. Here's how:
Connect your HDTV Antenna
Connect a USB Hard Drive - required both for streaming live TV and recording
Install the batteries (included) in the Tablo remote
Connect Tablo to your television via HDMI (included)
Connect the Power Adapter
Connect Tablo to your Home Network - via WiFi or Ethernet
For help with antenna selection and positioning, a list of recommended hard drives, additional set-up instructions, and troubleshooting tips visit TabloTV.com/setup.
It works fine. Very satisfactory unit. I only wish it had ATSC 3.0 capability. ATSC 3.0 tuner has been available for 5-years now and we will have to buy capable tv tuners when they become available for Tablo. A big inconvenience!
Works Excellent!!!
This device works exactly as advertised. The OTA local channels look just as clear as my soon to be cancelled Directv box. I did have to find the best place for the amplified indoor antenna for the best signal. After that no problems at all. My only regret is that I didn't buy it sooner so I could have got the lifetime channel guide subscription. I do recommend pairing it with a Western Digital 1TB hard drive. They do make bigger capacity drives but I think the 1TB has plenty of storage.
Very pleased!!!
I enjoy my Tablo QUAD HDMI!!
Had it now a little under a month and thoroughly enjoy it! I like this a lot better that my Tablo Quad. It was having issues. Didn't even get to squeeze three years out of it. This unit does not rely on internet to process the picture. Also the picture quality is better than that of the regular Quad. The unit is a lot smaller as well. I found out with the free trial that I was able to use my Tablo Roku Channel app to view the Quad HDMI. The guide is fine straight from the unit via HDMI. The only thing is that you cannot power the unit off. Also on the guide (as of date of review) it won't show first aired date for tv shows. I did find that it does on the Roku app guide however. All in all I am very happy with the Tablo QUAD HDMI!
Tablo Quad HDMI great!
My wifi costs money after a 10GB cap, so I have my wifi router enabled router enabled from midnight to 5 am (which is "free" time and hackers won't use up my 10g)
The first day, I set up the tablo to record 4 shows at once while I watched a previously recorded show. It's great. It does loose some signal over the roku tv. I sometimes can't receive the dallas weather channel 8.2
The tablo wants to be connected to the internet anytime you want to update the channel listings. I have both wifi and ethernet connected to it, but I disconnect the ethernet when I don't want to go over my cap (and slow me down). I have not yet opted for the 14 day one touch record schedule over the network for $5/mo. I can go browse all the OTA channels within a 24 hour time period and see what it says the show is about and schedule it to record any combination of 7 days, the specific show time and channel and it does it! Occasionally, If I browse the OTA channel guide too fast, the system tries to restart and it hangs. I have to unplug/plug in the power. The power off button does not do anything. Setup has a restart option. I am using a 165GB USB seagate disk for my DVR storage.It has used up 108GB for about 50 hours of shows and movies.