The Tablo QUAD OTA DVR is designed for TV lovers with larger households or channel lineups, who wish to record and stream up to four free broadcast channels from their over-the-air HDTV antenna simultaneously.
This variant includes a 1TB built-in SATA drive for recording storage which is enough space for up to 700 hours of HD programming.

The Tablo QUAD 1TB OTA DVR features:
4 Over-the-Air ATSC Tuners
Ethernet OR WiFi Connection
Whole-Home & Out-of-Home Streaming
1TB storage
5.1 Surround Sound support

Refurbished Units
Refurbished Tablo OTA DVRs are lovingly restored at Tablo HQ. All DVRs are tested, updated with new software, and include all parts and accessories. These units are covered by Tablo's 12-month replacement warranty policy and 30-day return policy. To learn more about refurbished Tablo units, please see our store policies
Regular price
$189.99 USD
$189.99 USD
Regular price
Sale price
Unit price
per
Sale
Sold out
What you need to setup?

To set up your Tablo QUAD 1TB OTA DVR you need:

An Over-the-Air HDTV antenna
An internet connection
A Roku OR Amazon Fire TV OR Android TV OR Apple TV OR a WiFi-enabled computer (Windows 10 app on PC, Safari browser on MAC) OR a mobile device (iPad/iPhone w/iOS12+ OR Android smartphone/tablet w/Android 4.4+)
This product's user interface is not the same as new Tablo's (4th Generation) user interface. This product does not support Streaming Channels.
View full details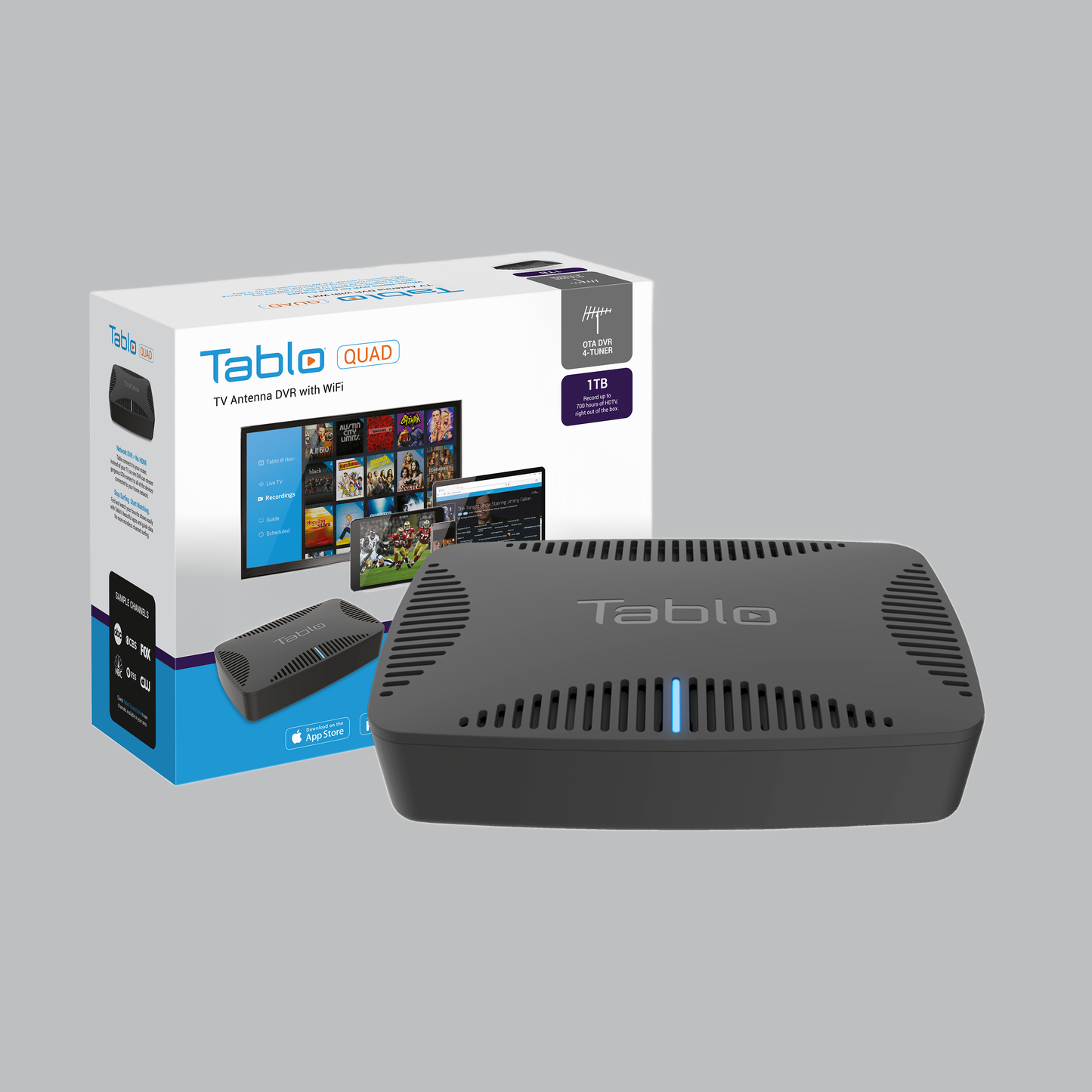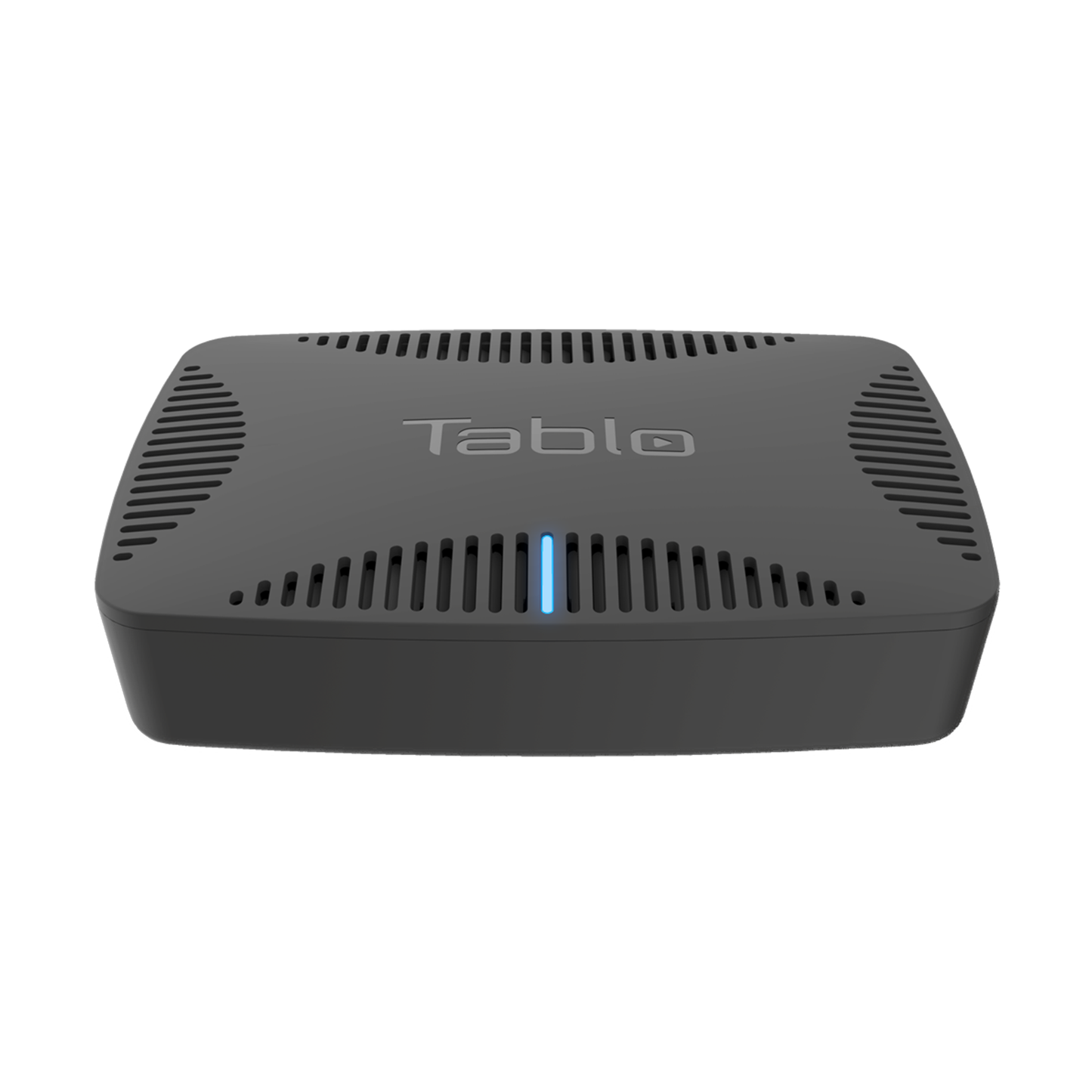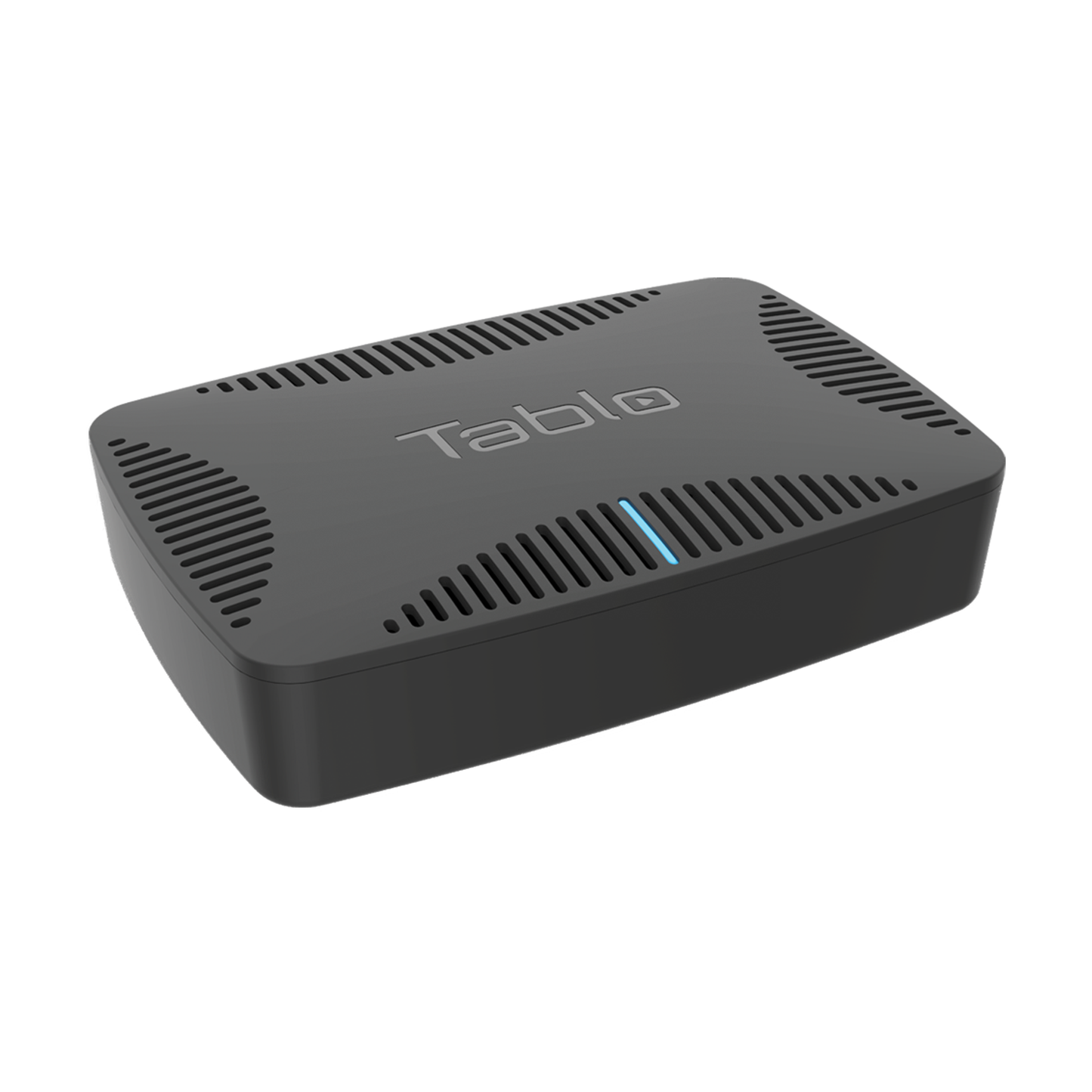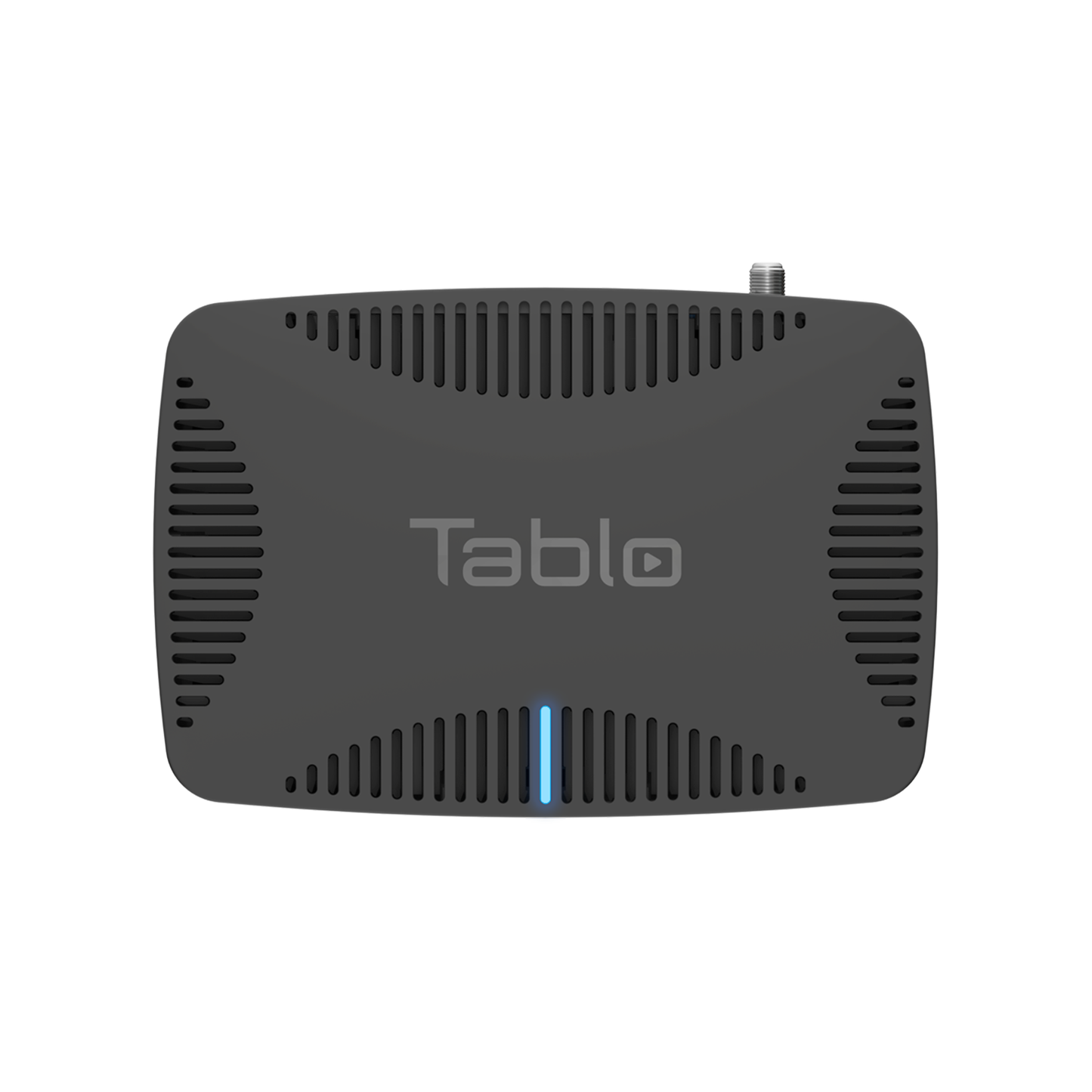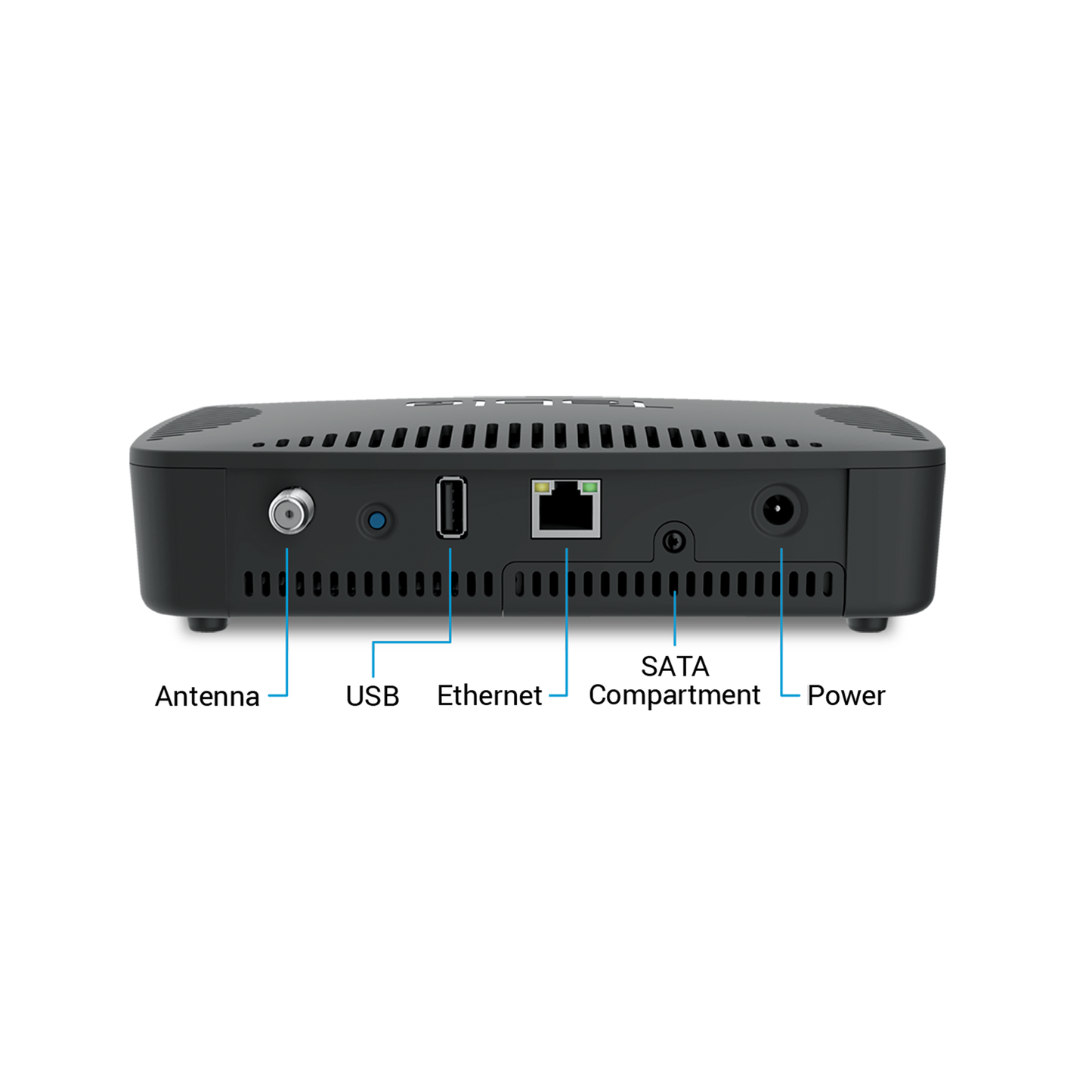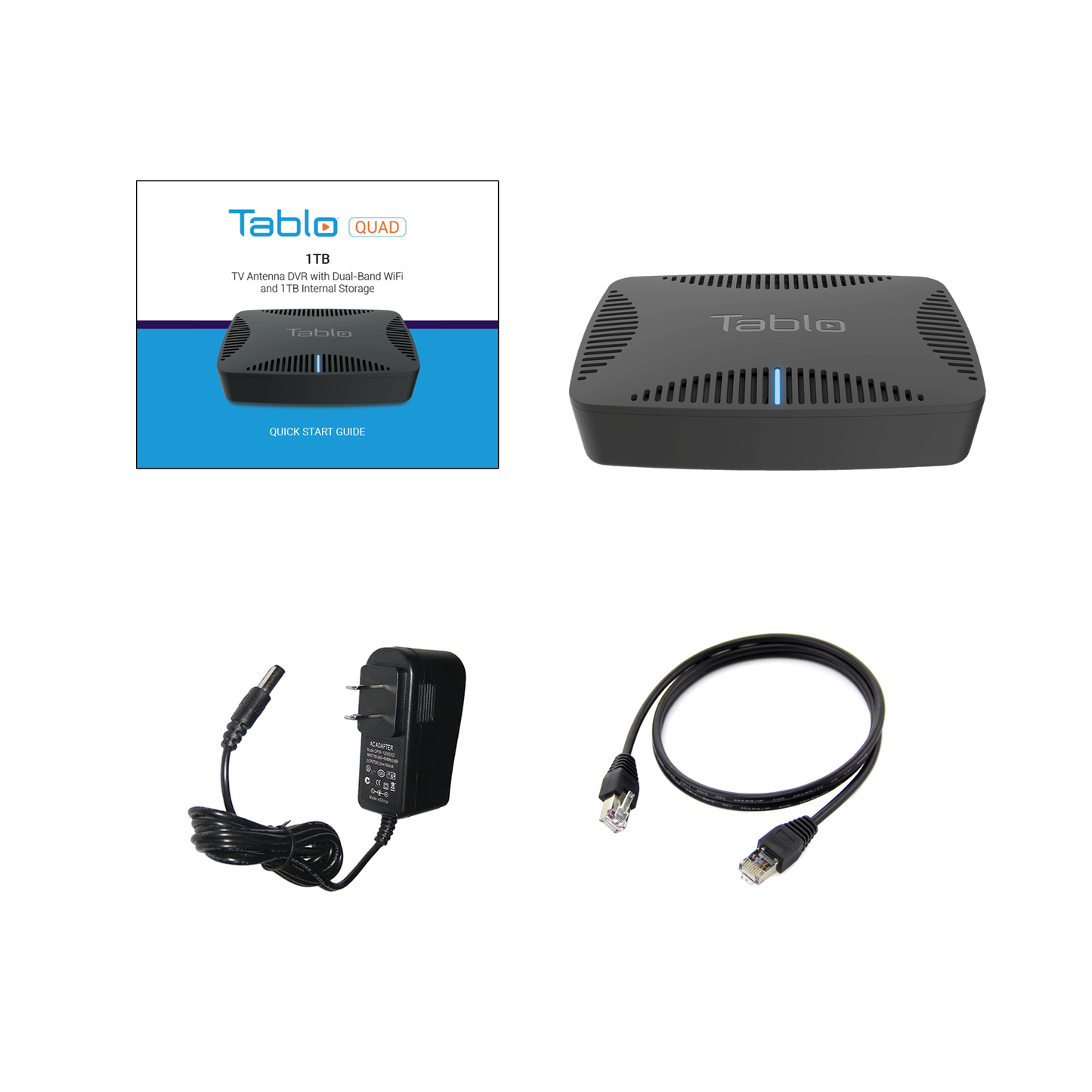 Features
4 Over-the-Air ATSC Tuners

Tablo QUAD 1TB DVR can stream or record up to four live OTA TV channels at once.

Whole-Home & Out-of-Home Streaming

Watch your favorite live and recorded TV shows on to up to six internet-connected devices inside and outside your home.

1TB Onboard Storage

1TB of onboard storage gives up to 700 hours of HD recording storage, right out of the box.

5.1 Surround Sound

Tablo network-connected DVRs enable passthrough of 5.1 surround sound, when available, to compatible devices which can decode this audio format.
Specifications
What's Included:

Tablo QUAD 1TB OTA DVR
Power Supply
4' Ethernet Cable
Quick Start Guide
Concurrent Streams:

Watch and record up to four shows at once
Stream to up to six devices at once
Storage:

1TB onboard storage
Support for up to 8TB USB hard drive
OR
Up to 8TB internal 2.5" SATA drive
(7mm or 9.5mm heights)
Ports:

Power
Gigabit Ethernet
USB 2.0
Serial ATA II (3Gbps)
Coax
Networking:

Gigabit Ethernet
802.11ac dual band WiFi with MIMO
Dimensions:

Height - 39mm (1.54")
Width - 174mm (6.85")
Depth - 116 mm (4.57")
Video Format:

H.264 (HLS: HTTP Live Streaming)
Audio Format:

Enables pass-through of 5.1 Surround Sound when available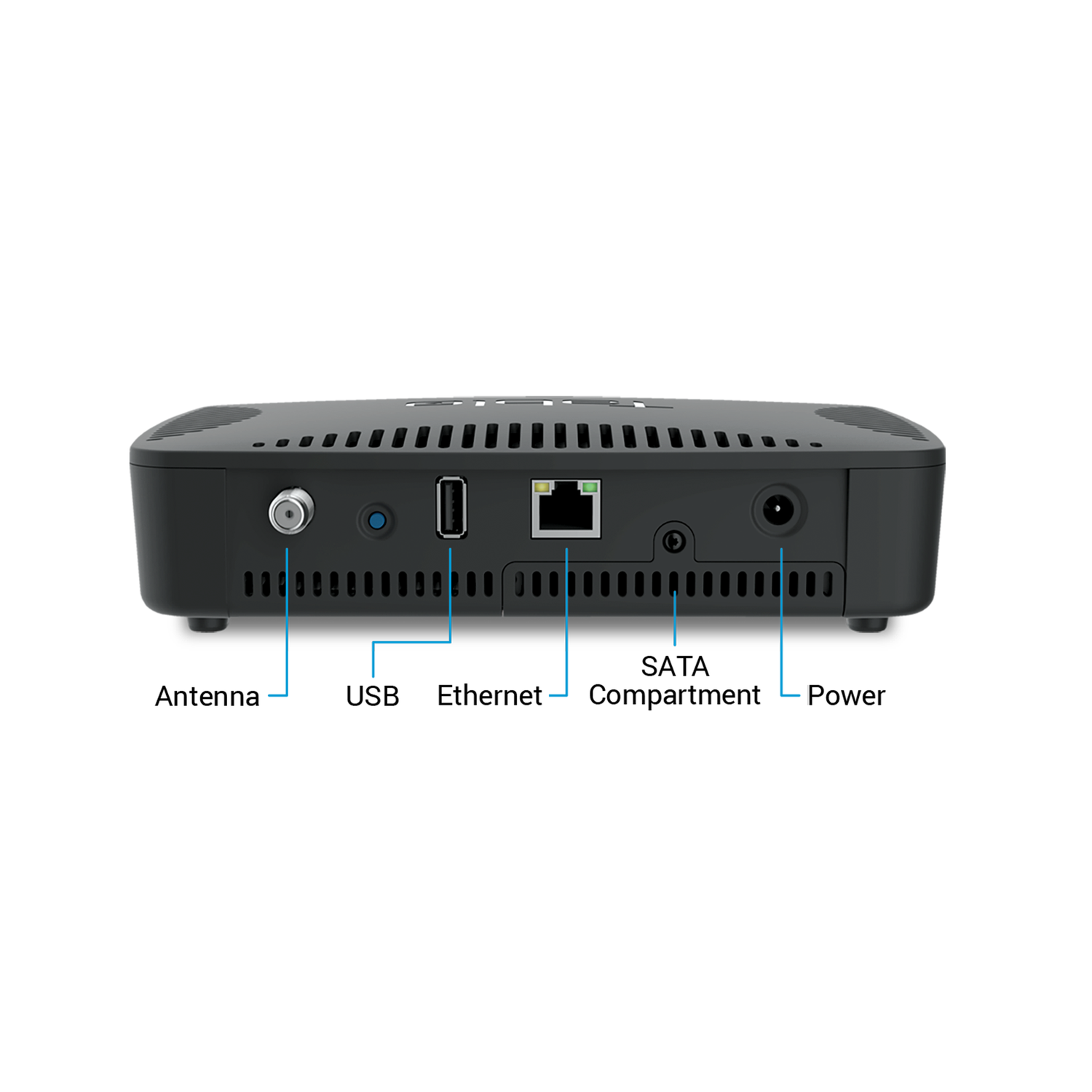 Setup
It's easy to start enjoying free Over-the-Air TV with a Tablo QUAD 1TB OTA DVR. Here's how:
Connect your HDTV Antenna
Connect Tablo to your Home Network - via WiFi or Ethernet
Connect the Power Adapter
For help with antenna selection and positioning, a list of recommended hard drives (optional), additional set-up instructions and troubleshooting tips visit TabloTV.com/setup.
Nice Full-HD OTA DVR
Even though the unit was refurbished, the box and everything inside looked completely new. Nice attention to detail, folks!
The audio and video quality is excellent and the tuners are at least as sensitive as the tuner in my Sony Bravia. Also note that just because some weaker stations may only indicate a strength of one red dot doesn't mean that you won't be able to view or record such stations. I have such a station that comes in from outside the state, and I can usually successfully watch and record that station using the Tablo's tuners.
I'm using a 3.5" 2TB Seagate Barracuda drive in a Sabrent docking station with the Tablo. The drive reliably spins-up when the Tablo needs it, and spins-down when it doesn't. I haven't seen any issues with compatibility.
One area where I've had problems is with the Tablo's CEC communications to my Sony Bravia. The CEC on my Sony Bravia TV has never seemed to work correctly with external devices, and this includes the Tablo (probably not Tablo's issue). The unfortunate aspect of this is that I have to turn the TV on and off and select the correct HDMI input using the TV remote and then switch to the Tablo remote to change channels, etc. I'd really prefer it if the Tablo remote had universal functionality built-in so that it could command the TV directly instead of relying on CEC communications which doesn't operate correctly on my Sony Bravia.
I consider the refurbished version of this product to be an excellent deal!
Hi Michael - Thanks so much for your purchase and your review.
Just Perfect
I did a lot of research by watching Antenna Man's Youtube channel and came to the conclusion that Tablo would work for me. And it did! I connected this to a Clearstream Antenna and now can watch OTA TV for free. Tablo is great and it was easy to setup and use. My only wish list feature would be to allow live TV to immediately show the chosen without the extra screen which prompts you to choose if you want to record. I don't plan to use the hard drive DVR option, I just want to watch live TV. Otherwise it's perfect
Hi Ann - Thanks so much for your purchase. Glad to hear you're enjoying your Tablo. And here's a tip to help you enjoy it even more... Instead of pressing ENTER when you select a live TV channel, hit PLAY and you'll skip that secondary screen and hop right into your show.
Should have got the quad
Excellent product. I'm now watching more ota than Sling. Works pretty much seamlessly. Commercial skip isn't perfect but worth $2/mo. I'm getting the quad version when NextGen arrives.
Thanks for your review, Bill! Glad you're enjoying your Tablo.
rewrite of a previous review
Died in less than 6 months. I had an on going problem with it not recording a full show and loosing connection. Now it cannot connect at .all.
Hi Jonathan - Sorry to hear you're having a rough time. I'm sure our support team will be able to help you get your Tablo back up and running: www.tablotv.com/support
If for some reason that's not the case, the device is still under warranty and we'll be happy to replace it if need be.
Don't be scared of refurbished.
I was a little worried about buying a refurbished device. But I hook mine up hooked up the external hard drive and works like a champ. The one bad thing I can say is I should've waited until they had a refurbished quad for sale.
Thanks for your review, James! Glad you're enjoying your Tablo!